Volition: A Terrific 15-Minute Film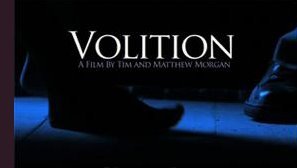 Four days ago I watched a short film called "Volition" that is extremely powerful and well done. It's a great investment of fifteen minutes. I watched it twice. I highly recommend that you grab a cup of coffee and view this, undistracted. Maybe have your family watch it together after dinner. I really like this one!

It was filmed mainly in three days in August on a small budget, to be entered in a short film contest. There's not much info on it on the web yet, so likely you haven't heard of it. But when you see it, I think you'll join me in wanting to spread the word.

If you don't want advance info, just watch the film now, then read the rest of this blog to learn more about it.
If you want to know more about it either before or after you watch it, read what follows.

"Volition" masterfully places its unnamed central character in the context of three of the greatest human rights violations in history: the holocaust, slavery, and abortion.

The film's synopsis explains its name: "Volition (n)- The act of making a choice. Sometimes the choice of inaction has consequences stronger than we could ever imagine. Throughout history, men have been faced with difficult choices in a world that makes it easy for them to conform. This film explores the hope that lies behind every decision made in the face of adversity; the hope that is buried in the heart of those that look beyond themselves and see something bigger worth fighting for."

The film was produced by brothers Tim and Matthew Morgan, who created it when they were chosen as finalists for The Doorpost, an online short film competition. The brothers' ages are themselves an achievement: Tim Morgan, who directed the film, is only twenty-three years old, and his brother Matthew, who composed all the music, is twenty.

Tim shared with Lifesitenews.com that although for most of his life he had always been "pro-life," he had never given much thought to the issue until last year when he attended a massive prayer rally, "The Call." "That's when it really hit me, hit my heart," he says, "that there is a need for just some sort of voice in the arts, in the entertainment world, in defense of these unborn babies."

The Christian community, he says, "has kind of left the art world on the back burner. My vision would be them treating the art world, the film world, with the same sense of urgency as they're treating, for instance, an overseas mission."

"This is an emergency for our culture, to be able to influence our film, our arts, the American pop culture in this way."

Okay, if you haven't done it yet, to watch "Volition," click HERE.

On a mostly unrelated subject, check out this response from Robert Gagnon to the December 15 cover story in Newsweek, "Our Mutual Joy," written by Religion Editor Lisa Miller and strongly endorsed by Managing Editor Jon Meacham. As you may have heard, the article claimed that there are no good arguments from Scripture for refusing to support "gay marriage." Interesting when a major news magazine shows an interest in biblical interpretation, and very sad when they misrepresent Scripture so badly.

But don't let the Newsweek media downer distract you from appreciating Volition, which is exactly the kind of media accomplishment we need. May God raise up more of these gifted young people to make these kinds of films! And may the church lay hands on them and send them out as Christ's ambassadors, with the same sense of God's calling and anointing we have when sending out missionaries.

"Speak up for those who cannot speak for themselves...defend the rights of the poor and needy" (Proverbs 31:8-9).