Four Blessings from Above: The Joy of Grandchildren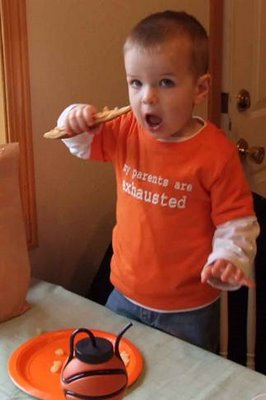 It's been a while since I showed pics of our grandchildren. Many of you have endured sleepless nights wondering when I was going to get back to them. Now you can relax and breathe again.
The family got together recently for Tyler Stump's second birthday party. Don't you love the message on his shirt? "My parents are exhausted."
He's such a good hearted kid, and he is into everything. Having raised two girls, it's enlightening now to be dealing with four little boys! But they are so precious.
Here Jake, Ty and cousin Matthew Franklin are all trying to figure out what's in the big box. (A basketball pole and hoop).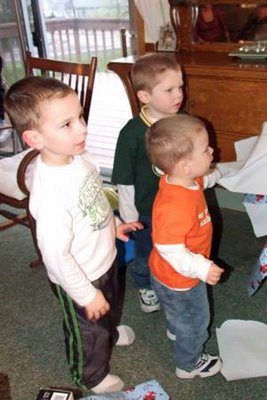 Jake's checking out the cupcakes. Trying to decide which kind to have first. It's tough being a kid. You gotta make the call.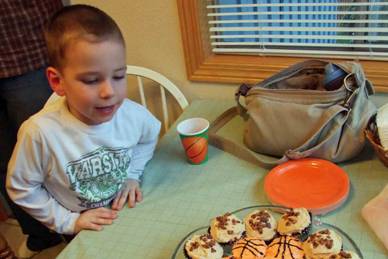 Now when Ty examines a cupcake, he's trying to decide what it will look on like on his face. Here's the answer.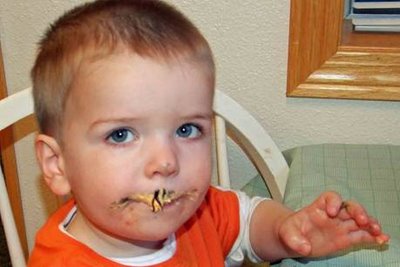 While the big boys are doing their thing, Jack Franklin hangs out with Grandma Nanci. And she couldn't be happier.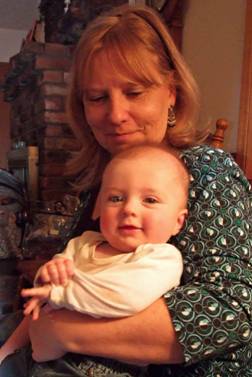 With all the great presents he's received, Ty (looking cool in his new shades) just wants to play with the little orange squeeze ball. And why not? It was my favorite too.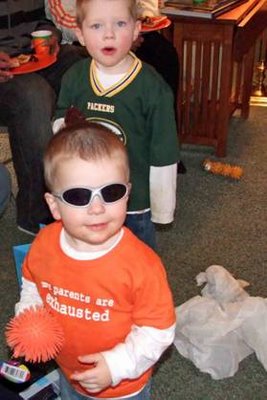 Jack Franklin, through blue eyes, sees the world from a different angle. He knows everybody from their knees down. And he's pretty happy about it too.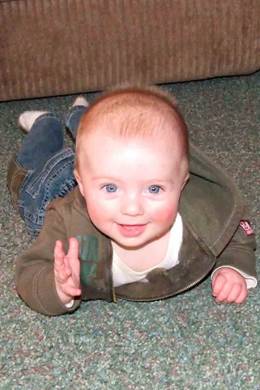 Two days after the party, Matthew Franklin came to visit. We were watching the "Amazing Book" video (the one with Dewey DeciMole) about the Bible and its stories. It came out when our kids were small, and is now being enjoyed by their kids. Nanci and Matty and Moses are cozy and content, loving life and enjoying the gift of love.
Sons are a heritage from the LORD,
children a reward from him.
Like arrows in the hands of a warrior
are sons born in one's youth.

Blessed is the man
whose quiver is full of them.
Psalm 127:3-5