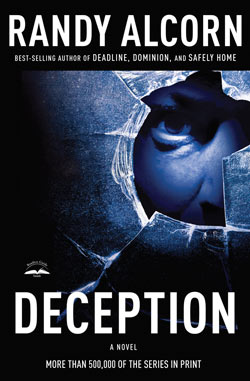 This month we're giving away Randy's murder mystery novel Deception to three randomly drawn winners.

Those who have read Randy's previous novels Deadline and Dominion might remember Ollie Chandler, Deception's main character, as the gruff yet lovable cop who made an appearance in both books.

Randy writes, "Though publishers and readers have asked me to, I've never in my previous six novels felt I wanted to go back and use the main character again as such in a subsequent book. I know it would be easier in some ways, but I've felt like each person gets one book on center stage. Ollie Chandler is the first character that has made me feel different about this. When I started Deception I thought this would be it, no more stories centered on Ollie. But once I got inside his head, things slowly changed. I thought, 'I like this guy, I like his quirks, his sense of humor, the gruff exterior and the soft heart, the head-butting toughness and the vulnerability of a lifetime of hurts'."

Here's a short video with a dramatic presentation of the opening scene from Deception and a clip of Randy talking about the book. (http://www.youtube.com/watch?v=iwuUxrKUUkA)




The deadline to enter the Deception giveaway is Friday, May 30, and the winners will be announced in a blog post on Tuesday, June 3. (We're not announcing the winners until June, because I [Stephanie] will be getting married May 24!)

To enter for your chance to win, leave a comment on this post. Need help posting a comment? For further assistance, contact me at stephanie@epm.org

Please be sure to include your contact information (a blog, or an e-mail address), otherwise we cannot contact you if your name is drawn. However, if you would prefer not to post your e-mail address, please check back on June 2 to find out if you are a winner.

During May, the paperback version of Deception is also on sale at the Eternal Perspective Ministries website for $8.99 (retail price $14.99, regularly $11.99 from EPM).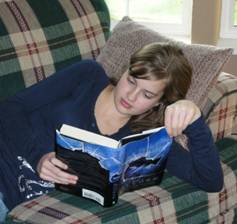 Since I'm writing about Deception, it's worth noting that Deception is a 2008 Christian Book Award Finalist for the fiction category, and Randy's children's book Wait Until Then is also a finalist for the children and youth category. (Safely Home won the book of the year in the fiction category in 2002.) The Christian Book Awards were established in 1978 as the Gold Medallion Book Awards by the Evangelical Christian Publishers Association, and are some of the oldest and most prestigious literary awards in the religious publishing industry. They recognize the absolute highest quality in Christian books; finalists are chosen based on excellence in content, literary quality, design, and significance of contribution. This year's award winners will be announced in July at the International Christian Retail Show. Congrats Randy! You can see the rest of the finalists by visiting the ECPA website.

In closing, we've received letters from readers young and old and all ages in between who have enjoyed reading Deception. I thought I'd share a picture of one such young reader. Here's Ellie, 14-year-old granddaughter of Kathy Norquist, Randy's assistant, contemplating her fourth read of Deception. She's already read it three times, and according to Ellie—who's a big reader—it's the best book she's ever read.

I think you'll enjoy Deception, too. Happy reading!

Stephanie Hallman
Promotions Director
Eternal Perspective Ministries
www.epm.org
Stephanie Anderson is the communications and graphics specialist at Eternal Perspective Ministries.