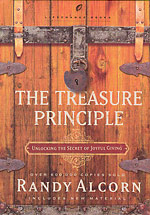 This month we're giving away Randy's life-changing book The Treasure Principle, which introduces readers to a revolution in material freedom and radical generosity, to 3 randomly drawn winners.

Randy bases his brief, motivational message on the words of the world's foremost financial consultant, Jesus Christ, who advised listeners to "store up for yourselves treasures in heaven" (Matthew 6:20). In a concise power-packed style, he leads the reader toward the Treasure Principle mindset by proposing and illustrating key truths. "God owns everything," Randy writes. "I'm His money manager. What I call my money is really His. The question is, what does He want me to do with His money?"

In contemporary, easy-to-understand language, Randy offers readers a six-step plan to finding the immediate pleasure and eternal rewards of the Treasure Principle. Once readers discover the liberating joy of giving, life will never look the same. And they won't want it to!

Speaking of The Treasure Principle, it was recently recognized by the Evangelical Christian Publishers Association, along with Randy's book Heaven, for outstanding sales in 2008. The Treasure Principle received a Platinum Award for sales over 1 million, and Heaven received a Gold Award for sales over 500,000. Here at EPM we're especially excited for this news because EPM donates 100% of all book royalties to worthy ministries. We're grateful to the Lord for His provision.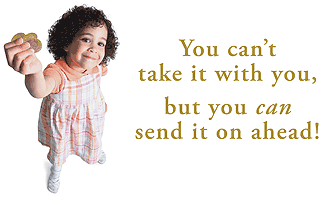 Learn more about Heaven and The Treasure Principle at the EPM website, where you can read excerpts, find more related resources, and order the books.

To enter for your chance to win the giveaway, leave a comment on this post by Friday, November 28. The winners will be announced in a blog post on Monday, December 1, so be sure to check back!

If you're a previous book giveaway winner, we'd encourage you to share this giveaway with friends who are not familiar with Randy's books and Eternal Perspective Ministries.

Please include your contact information (a blog, or an e-mail address), otherwise we cannot contact you if your name is drawn. For further assistance, contact me at stephanie@epm.org

As always, I look forward to reading your entry comments. May our hearts be characterized by giving and generosity during this upcoming holiday season.

Stephanie Anderson

Promotions Director
Eternal Perspective Ministries
www.epm.org
Stephanie Anderson is the communications and graphics specialist at Eternal Perspective Ministries.