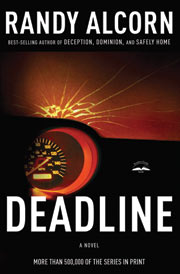 It's been a couple of months since we've given away a fiction book, so I'm excited to let you know that in October we're giving away three copies of Randy's novel Deadline.

His body hung suspended between two friends – his soul between two worlds.

Doc's shoulder jammed into Jake as he swerved the Suburban sharply to the right, cut between a telephone pole and a billboard, then careened into a ten-foot high embankment. Sometime between the sound of Doc's last cry and the sickening crunch of bent metal from the car's first roll, Jake lost consciousness. The last sensation he felt was that of being crushed between the two men he had known since childhood…

When tragedy strikes those closest to him, award-winning journalist Jake Woods must draw upon all his resources to uncover the truth about their suspicious accident. Soon he finds himself swept up in a murder investigation that is both complex and dangerous. Unaware of the threat to his own life, Jake is drawn in deeper and deeper as he desperately searches for the answers to the immediate mystery at hand and – ultimately – the deeper meaning of his own existence.

Deadline is a dramatic and vivid novel of substance, filled with hope and perspective for every reader who longs to feel purpose in life.

Visit our website to learn more about the book and read an excerpt.

To enter for your chance to win the giveaway, leave a comment on this post by Friday, October 24. The winners will be announced in a blog post on Monday, October 27, so be sure to check back and see if you won!

Please include your contact information (a blog, or an e-mail address), otherwise we cannot contact you if your name is drawn. For further assistance, contact me at stephanie@epm.org

Stephanie Anderson
Promotions Director
Eternal Perspective Ministries
Stephanie Anderson is the communications and graphics specialist at Eternal Perspective Ministries.