Undercover at Planned Parenthood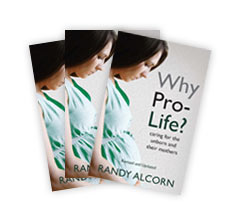 With Sanctity of Human Life Sunday coming up on January 24, 2010, I'll be doing some more blogs focusing on prolife topics. Before I get to today's blog and video—which you won't want to miss—the EPM staff asked me to include a short word about my book Why Pro-Life?:

Why Pro-Life? is perfect for churches celebrating Sanctity of Human Life Sunday. EPM is offering case quantities (60 books or more) of Why Pro-Life? to churches and prolife organizations for only $1.00 per copy! Click here to order from EPM, or to access free resources related to the book.



Last year I blogged about Planned Parenthood and a video that showed their willingness to accept funds specifically to abort black children. Recently I watched another video that exposed more of what goes on behind the closed doors of Planned Parenthood clinics. The video is the first in Live Action's "Rosa Acuna Project," a multi-state undercover audit documenting Planned Parenthood's abortion counseling. The project was led by Lila Rose, a 21-year-old UCLA student and Live Action (www.liveaction.org) president.

Lila writes:
In the undercover video, when the two women ask a Planned Parenthood counselor if the pregnant woman's 10-week-old unborn child has a heartbeat, the counselor emphasizes "heart tones," and answers, "Heart beat is when the fetus is active in the uterus—can survive—which is about seventeen or eighteen weeks." On the contrary, embryologists agree that the heartbeat begins around 3 weeks. Wisconsin informed consent law requires that women receive medically accurate information before undergoing an abortion.
(
Click here
if you're unable to view the video.)
Browse more prolife articles and resources, as well as see Randy's books Pro-Choice or Pro-Life: Examining 15 Pro-Choice Claims, Why ProLife? and ProLife Answers to ProChoice Arguments.