The Dominion giveaway is now closed.

February is Black History Month, so we are giving away three signed copies of Randy's novel Dominion, a dramatic story of spiritual searching, racial reconciliation, and hope.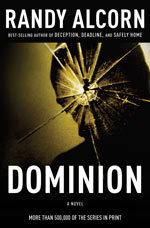 Clarence Abernathy, an Oregon columnist and suburban middle-class black, is dragged into a world of inner-city gangs, drugs, violence and racial conflict. Clarence's anger at injustices he cannot control pulls him onto turf that becomes more dangerous by the moment. Encouraged by fellow columnist Jake Woods, Clarence forges an unlikely partnership with Ollie Chandler, a white homicide detective. As the case unfolds questions of racial prejudice and misunderstanding rise to the surface. As unseen eyes watch from above, the urban terror that has robbed Clarence of loved ones and uprooted his faith in God now threatens to unleash its deadly violence on him.

In the footsteps of his best-selling novel Deadline, author Randy

Alcorn

tells an exciting story filled with drama. The characters are so real you'll never forget them. In America's racially charged atmosphere, this story offers profound insight concerning our perceptions and conflicts, and points clearly toward the only true hope for racial reconciliation. As you become immersed in its riveting story, Dominion will make you laugh, cry and think.
Here's a great response from a reader of
Dominion
:
I just got a copy of your book Dominion. I have to admit that when I read the cover, I thought..."Who is this white man who thinks he can write from a black perspective?" You see, I am a black woman. And, as a black woman who could never explain to my white friends what we mean by equality, I thought your book would be a condescending disappointment. But the Spirit of the Lord kept urging me to buy the book. I have to say that you did a most excellent job of treating the story about as even handed as someone who is not black could do. - L. W.
To enter for your chance to win, leave a comment on this post
by Friday, February 27
. The winners will be announced in a blog post on Monday, March 2, so be sure to check back and see if you won.
If you're a previous book giveaway winner, rather than entering, we'd encourage you to share this giveaway with friends who are not familiar with Randy's books and Eternal Perspective Ministries.
Stephanie Anderson
Promotions Director
Eternal Perspective Ministries
www.epm.org
Stephanie Anderson is the communications and graphics specialist at Eternal Perspective Ministries.