Francis Schaeffer: Intellectual and Christ-Lover
Friday, May 15, 2009, is the 25th anniversary of the home-going of Francis Schaeffer, intellectual and Christ-lover. When I was a new believer, I was profoundly influenced by what he wrote; Schaeffer's philosophical and apologetic writings, among them He Is There & He Is Not Silent, shaped my thinking in the seventies. (For those unfamiliar with Schaeffer, you can find excerpts from nearly all of his books at www.rationalpi.com/theshelter/sitemap.html)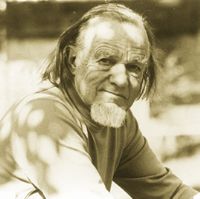 As a young believer, books and bookstores had an enormous influence on my own life. My first youth pastor did me a huge favor—he gave me a key to his office, so I could go in any time and read his books, hundreds of them. I read everything I could get my hands on. There was an elderly couple in our church, who had a Christian book store in their house in Gresham, Oregon, my hometown. I would go there several days a week, for hours at a time. They would point out books for me to read. They introduced me to Lewis, Schaeffer, and Tozer. Ultimately, everything I've ever written has been affected by those three men.
I still have a wonderful hand written letter Francis Schaeffer wrote to me after I wrote to him as a college student, telling him how God had shaped me through his books.


May 11, 1976

Dear Randy:

Thank you for your letter of April 21. I want to thank you for your letter. It was a real encouragement to me. I can't write you a long note. The enclosed slip will tell you why, but I did want you to know that really your letter touched me and it is a letter like yours that gives me the courage to go on. With the busyness of my life it's not been easy to write these books, and the thing which has made it worthwhile is the way the Lord has used them in so many parts of the world and with so many people.

I would ask you if you would pray for this new film and book. The title will be How Should We Then Live? 50th L'Abri Anniversary Edition Revell is releasing the book in November. The film will be released at a series of seminars across the United States, Lord willing, early next year. I've worked on this film and book for almost two years and I must say I feel overwhelmingly tired. And even beyond that Satan has done everything he could to see that the film doesn't come out. I would be glad if Nanci and you would pray especially about this.

Thank you, Francis, for your impact on my life. In eternity it will be great for me to meet you face to face, along with other innumerable people who've written books that have shaped me. I anticipate saying "Thank you," then having a great discussion over the best dinner we've ever tasted!