Thanksgiving in the Midst of Tragedy
Since November 11 is Veteran's Day, I want to start this blog by acknowledging the men and women who have served to protect and defend our country. My heart especially goes out to those who lost loved ones in the Fort Hood shooting on November 5 [2009].

In a TV interview last week about the tragedy, one chaplain asked, "Where is God in all of this?" While it's not always easy to trust God in suffering, it's always possible.

On September 11, 2001, Lisa Beamer's husband, Todd, died on United Airlines Flight 93. Lisa says, "I can't see all the reasons [God] might have allowed this when I know he could have stopped it.... I don't like how his plan looks from my perspective right now, but knowing that he loves me and can see the world from start to finish helps me say, ' It's OK.'"

John Greenleaf Whittier, in his poem "The Eternal Goodness," wrote of life's great sufferings. He said,
Yet, in the maddening maze of things,
And tossed by storm and flood,
To one fixed trust my spirit clings;
I know that God is good!
During the Civil War, in a time of great national suffering, Abraham Lincoln called upon the nation to come to God in thanksgiving. He wrote,
The year that is drawing toward its close has been filled with the blessings of fruitful fields and healthful skies. To these bounties, which are so constantly enjoyed that we are prone to forget the source from which they come, others have been added which are of so extraordinary a nature that they cannot fail to penetrate and soften even the heart which is habitually insensible to the ever-watchful providence of Almighty God.

In the midst of a civil war of unequaled magnitude and severity... peace has been preserved with all nations, order has been maintained, the laws have been respected and obeyed, and harmony has prevailed everywhere, except in the theater of military conflict.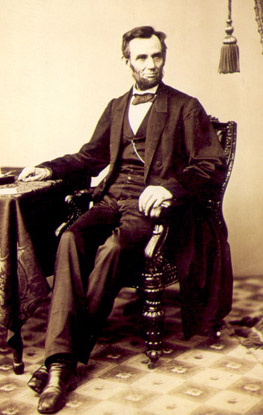 Lincoln pointed out that farming, textiles, shipping, lumber, and other aspects of the economy were flourishing, and iron, coal, and precious metals "have yielded even more abundantly than heretofore." He encouraged people to thank God that, despite the casualties, the population increased due to childbirth. He said to rejoice in the nation's strength and the promise of increased freedom. "No human counsel hath devised nor hath any mortal hand worked out these great things. They are the gracious gifts of the Most High God, who, while dealing with us in anger for our sins, hath nevertheless remembered mercy."
Hence, Lincoln continued, "It has seemed to me fit and proper that they should be solemnly, reverently, and gratefully acknowledged, as with one heart and one voice, by the whole American people." So he called upon the nation "to set apart and observe the last Thursday of November next as a day of thanksgiving and praise to our beneficent Father who dwelleth in the heavens."
How remarkable that the annual celebration of Thanksgiving began in the middle of what was arguably the most terrible period in all of the nation's history! Even in those darkest days, Lincoln could point to many reasons to thank God for his goodness and grace.