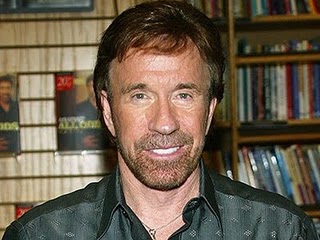 Todd DuBord, my friend and Chuck Norris's chaplain, linked me to Chuck's column to let me know he'd referred to If God is Good. I want to convey part of Chuck's touching story below, then if you wish you can read the whole column here.

… a couple days later we went out to Brooke Army Medical Center at Fort Sam Houston to visit with America's wounded warriors. How can one put into words the pride one feels around these brave men and women? Despite the loss of limbs or suffering from some other sacrifice in battle, their resolve and class was off the charts. While they were enthusiastic and grateful about our visit, it was my wife and I who were truly blessed and inspired by them.

Then came a moment that would have been completely surreal if it were not a staggering reality. As we were visiting the burn unit, we discovered that Maj. Nidal Malik Hasan, the shooter at Fort Hood who murdered 13 and wounded another 40, was being treated in the same facility. To be honest, it made me sick to my stomach and sent shivers of disgust down my spine.

If ever I have experienced a polar opposite, it was in that moment as I was thinking about how Hasan was the sheer antithesis to the character, commitment and service of all the other men and women we met at West Point and Fort Sam Houston. I was equally moved by the civil servants and military medical staff, many of whom knew victims of this assassin, yet turned immediately around and became his caregivers. They are exemplary models of the patriot and Founding Father Thomas Paine, who said, "He that would make his own liberty secure, must guard even his enemy from opposition; for if he violates this duty he establishes a precedent that will [eventually] reach himself."

Two years earlier, we visited Brooke Army Medical Center and recalled meeting a young soldier by the name of David who had been just flown in from Iraq and was in ICU suffering from burns that covered more than 90 percent of his body. Now, two years later, David came walking down the hospital corridor to greet us. We were overjoyed to see him again, and we could tell that he felt the same of us, though his gravely burned head and face was not able to muster even a smile. We again shared some choice, heartfelt moments with David. I couldn't help but say to him, "David, you are absolutely one of the toughest soldiers I have ever met." Even then, he tried to smile as he quipped, "Tougher than Chuck Norris?" "Yes," I replied. "You're much, much tougher than me!"

It's in times like these that I'm also grateful for military chaplains and the work of men like retired Lt. Col. Brian Birdwell, who was burned over 60 percent of his body when hijacked American Airlines Flight 77 collided into the Pentagon on Sept. 11, 2001. After more than 30 surgeries, Lt. Col. Birdwell now uses his life to bring hope to others. His story is also told on pages 42 through 43 in my friend Randy Alcorn's latest best-seller and help for those struggling through pain and difficulty, If God is Good, a copy of which I will be sending to David along with Lt. Col. Birdwell's book Refined by the Fire.