C. S. Lewis's Influence on my Life and Writing, Part 1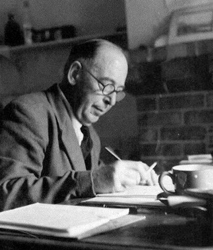 Those who have read my books know that all of them have been touched in one way or another by C.S. Lewis, because ultimately the books we write are the overflow of the books we've read. I look forward to meeting Jack Lewis, and exploring the New Earth, where there will be time for us all to walk and talk, with new friends who are also old friends, in the joyful presence of King Jesus.
Later this year, I'll be attending and speaking at the C.S. Lewis Foundation's 2010 Southwest Regional Retreat & Writer's Workshop, October 28-31 at Camp Allen, Texas, near Houston. I'll be sharing about the life, thought processes and habits of a writer, and how Lewis worked his way into most of my books, fiction and non-fiction. (See the PDF download for more information, or go to their website to learn more about the retreat and workshop. They offer an early bird discount if you register by September 15.)
Raised in a nonchristian home, I came to Christ as a teenager. My first Lewis books were The Problem of Pain, then the Space trilogy, then Mere Christianity. Before long, Lewis's fingerprints were all over me.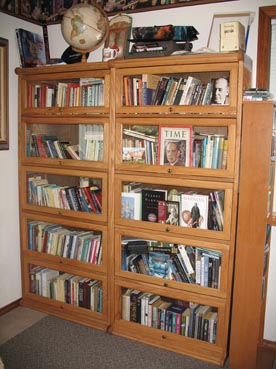 A barrister's bookcase in my office is filled with nothing but books by and about Lewis. On long lonely nights when I ask myself if the work I do as a writer is worth it, their presence reminds me that it is. I have been so forged by those books, I gain hope my writing will change others too.
Our three pilgrimages to Oxford were because of Lewis. The last was in 2005 before the London premiere of the Narnia film "The Lion, the Witch and the Wardrobe." (The pictures taken in England in this blog and then next one I'll be posting are from our last trip.)
The first was in 1988, when our daughters—who loved Narnia—were seven and nine. I brought photos from one of my Lewis biographies, intent on locating Lewis's rooms behind Magdalen College.
My wife Nanci, to her credit, was not going to act the brash American. She patiently waited near the sign that said admission was restricted to Oxford professors, students and those there for official purposes. Of course, I was a writer there for the official purpose of locating C. S. Lewis's place. So, Karina and Angela beside me, I followed written descriptions of stairs and hallways. Deducing that a particular door might be the right one, I knocked.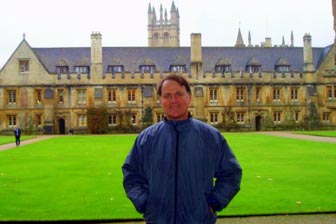 When a professor opened the door, I asked, perhaps not as apologetically as I should have, "Is this where C. S. Lewis lived?" In a very English way, with understated dismay at this American trespasser, he said, "Yes, but it's been many years; it looks quite different now."
We peeked in. Before he closed the door, we saw Lewis's sitting room where he meditated, entertained friends, and composed many of his books, including most of Narnia.
Lewis wrote to a friend, "My big sitting room looks north…down on a stretch of ground which passes into a grove of immemorial forest trees, at present coloured autumn red. Over it stray deer."
We looked out the windows in the hallway and to our delight, there stood a deer. Like a shameless tourist, I videotaped the girls outside Lewis's door.
I know, this is how we Americans earn our bad reputations, and I should feel more repentant than I do. But I tell the story because the very audacity of the adventure is a testimony to the depth at which I've been touched by Lewis.
C. S. Lewis's Influence on My Life and Writing, Part 2