What Bible Version Do You Use?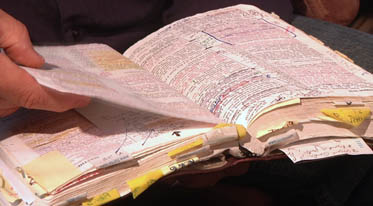 I actually use a number of translations, including the English Standard Version (ESV). I also use the New International Version (NIV) and in the past I've used the New American Standard Version.
The New Living Translation, a "thought for thought" translation, is a nice supplement, but I wouldn't use it as my main version. Yet I do like the combination of using a "word for word" translation and a "thought for thought" translation.
I think some of the "thought for thought" translations occasionally take too many liberties and depart from the actual use of certain words. As a reader, you lose all sense of coordination because some of the words in the original text aren't reflected. It's like a whole thought is missed.
However, sometimes the "word for word" translations leave you feeling like the wording is stilted. The original was good Greek, but it isn't the way we talk in English.
I like the NIV because it is reader-friendly and has a certain beauty and flow, yet sometimes it takes some liberties. In those situations, I prefer the ESV for its hardcore accuracy.
(I've been asked about using The Message translation of the Bible for personal study. The Message is really not a translation, but a paraphrase, and a very loose paraphrase at times. I really like The Message, but more as an interpretation or commentary than an actual Bible to read for personal study. As long as your main Bible is a true translation, such as the ESV or NIV, great. The easiest to understand translation may be the New Living Translation, which I think is very good.)
My friend Jim Swanson has shared some further thoughts about choosing a Bible translation.
Update, September 2018: I have come to appreciate the Christian Standard Bible, a newer translation that seceded the Holman Christian Standard Bible. I find the CSB to be faithful to the original languages and also very readable.