Logos Scholar's Library, and a 20% Discount at Logos.com

I love the Logos Scholar's Library. It's been great for years, and it's improving all the time. It's easy to use, and all the better if you get some training, watch the instructional videos, and take the time to try out features.
We recently bought some for friends, and they are raving about it. Along the way, I've used the Silver, the Gold and the Platinum versions of the Scholar's Library and enjoyed them all.
Quality Bible study takes place far more quickly and extensively than using traditional methods. All the time once spent searching bookshelves and flipping pages—the study equivalent of panning for gold—can be used instead to contemplate what you quickly discover. Instead of wandering, you can accumulate insights and organize presentations. The sheer number of quality resources available is staggering. Warning about the Logos Scholar's Library: if you love research like I do, you'll be drooling. This is truly a great investment in Bible study, which is one of the greatest investments you can make in life.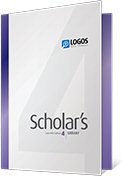 Logos is offering a special through December 31: visitors to www.logos.com/epm, a special page they've set up for Eternal Perspective Ministries, receive 20% off base packages listed on the page. Use the coupon code EPM to get the discount. (They typically offer 15% off to visitors to the EPM page.) The discount applies to the Scholar's Library, the Bible Study Library, the Leader's Library, the Scholar's Library: Silver, the Scholar's Library: Gold, and the Scholar's Library: Platinum.
Also listed on that page is the Charles Spurgeon Collection and the Complete Charles Spurgeon Sermon Collection, both of which I used in writing We Shall See God, Meditations on Heaven from the Writings of Charles Spurgeon, which will be out in June 2011. (Stay tuned to www.epm.org for more details about the book.) Although the Spurgeon collections don't qualify for the EPM 20% discount, they're still available at sale prices.