So What Do You Guys Do at EPM?
Guest post from Kathy Norquist, Randy's executive assistant.
Since we get asked this question from time to time, and because we're celebrating our 20th anniversary this year, we thought it might be fun to give you a sneak peek into the daily happenings at Eternal Perspective Ministries. Much of our time is taken up connecting with people through email, phone calls, and snail mail. They may want to order books, tell us how God has used a book in their life, ask a question related to an issue Randy writes and speaks about, or inquire about his availability for a speaking engagement or phone conversation. Here's a sampling of some of the correspondence we receive:
I bought my precious father, who served the Lord faithfully at a Bible school for 30 years, a copy of Heaven years ago and he read it and reread it. He loved Jesus faithfully and passionately all his life – and the book meant so much to him. It was on his bedside table the night he died and the verses he had underlined were read at his funeral. He totally loved the idea of a restored earth – and he grew increasingly impatient to be with the Lord – at 92 he got his wish.
Or how about this heart wrenching email (one of many we receive from grieving parents):
I, like countless others, have been blessed so greatly by Randy's books. We lost our precious son to suicide just months ago—he was a vibrant believer who struggled tremendously with bipolar and depression. I cannot begin to express how precious the books Heaven and If God Is Good have been to our family. An eternal perspective enables and nurtures trusting God through deepest, darkest sorrow.
Here's an unedited letter from a former prisoner:
Hi Everybody. I was in jail 5 and a half months, then inpatient treatment for 2 months, I am finally free. I love Randy's books. Praise God I am new at the Christianity. Please put me on Your email list for newsletters and everything. Again, thank You so much for everything. Mr. Alcorn, with Gods help, helped change My Life. Thank You
Just this week we received a call from a handicapped lady. She had just finished listening to the audio version of Deadline. "I've never read or listened to anything more gripping. It's the most interesting book I've ever read. Unbelievable! I want everyone to read it. And I don't normally like to read fiction."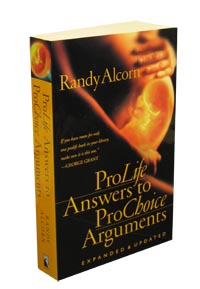 We receive some (what I believe are) divinely appointed phone calls, like the one I took a few days ago from a pro-golfer-turned-charity-events-planner who has been burdened to do something for the unborn. He had read a prolife article on our website and was calling to thank Randy for writing it and tell him how it helped him articulate his prolife beliefs. He's staunchly prolife and instead of raising money for just any charity that comes along, he wants to be more intentional in helping the unborn and their moms. This was especially exciting for me to hear as I had just been to a fasting and prayer time at our local Pregnancy Resource Center spurred on by the lack of funding, which is always an issue for prolife ministries. So I was able to encourage him to keep pursuing what God has laid on his heart and sent him ProLife Answers to ProChoice Arguments and Why Prolife?, along with the DVD of Randy speaking on this issue.
Hope you enjoyed this quick little glimpse into the daily happenings at EPM. Next time I'll share something more personal about Randy that I think you'll enjoy.
Kathy Norquist
Kathy Norquist works in Ministry Development for Eternal Perspective Ministries, and is also on the EPM's Board of Directors. She was Randy's executive assistant from 1997-2015, and was also previously one of his secretaries when he was a pastor.