Why Are We So Offended All the Time?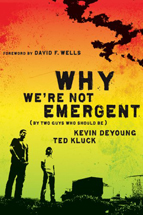 What follows is a spot-on article by Kevin DeYoung, a pastor and writer. While it was written after the flap about Brit Hume, making that aspect of it dated, it is timeless at its core, and I just "happened" upon it (in the providence of God). I met Kevin a couple of years ago and had only a brief conversation and an email exchange. But I love his books, Why We're Not Emergent (By Two Guys Who Should Be), and Why We Love the Church: In Praise of Institutions and Organized Religion, both written with Ted Kluck, as well as Just Do Something: A Liberating Approach to Finding God's Will and The Good News We Almost Forgot: Rediscovering the Gospel in a 16th-Century Catechism.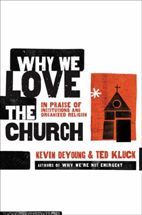 Kevin also has a great blog at the Gospel Coalition. (Check out the others who post on the Gospel Coalition, a number of whom I know and deeply appreciate.)
Okay, listen now to Kevin DeYoung.
Let me start with the caveats. Many people suffer at the hands of others. The world can be unfair, at times mercilessly so. Millions of people in the world are genuine victims, right now. All of us will be at some point, whether it's for small matters or large, for a long duration or short.
But we aren't all victims, not all the time anyway, not for everything.
Offendedness is just about the last shared moral currency in our country. And, I'm sorry, but it's really annoying. We don't discuss ideas or debate arguments, we try to figure out who is most offended. Buddhists are offended by Brit Hume. Christians are offended that critics disparage Brit Hume. Republicans are offended by Harry Reid's comments about President Obama. If the shoe were on the other partisan foot, you can bet Democrats would be offended for President Obama (who can legitimately be offended by Reid's remarks). Whenever someone makes a public gaffe, whether real or perceived, critics storm the microphones to let the world know how offended they are. Why is everyone in such a hurry to be hurt?
For starters, being hurt is easier than being right. To prove you're offended you just have to rustle up moral indignation and tell the world about it. To prove you're right you actually have to make arguments and use logic and marshal evidence. Why debate theology or politics or economics if you can win your audience by making the other guys look like meanies?
There's nothing like being offended to nail your opponent. No one wants to look like a jerk (ok, maybe Donald Trump does). No one wants to come off as a free-wheeling dealer of pain. As a result, we end up held hostage by the possible taking of offense. It's rarely asked whether such offense is warranted or whether it even matters. No, if there is offense, there must be an offender. And offenders are always wrong.
So we demand apologies. Sometimes, no doubt, because a genuine sin has been committed. But often we demand apologies just because we can. It's a way to shame those with whom we disagree. It forces them to admit failure or keep looking like a weasel. The weakest offense-taker can now bully multitudes of intelligent men and women through the emotional manipulation that goes with chronic offendedness.
We live in an emotionally fragile culture. We are in touch with every hurt past, present, and perceived. We are the walking wounded and we want everyone to know. Which is too bad, because when people are genuine victims—profoundly, egregiously wronged—they deserve not to be lumped in the same category with those who got picked last for kickball or turned down for their church's "special music."
As Christians, we worship a victimized Lord. We should expect to suffer and should have particular compassion on those who hurt emotionally and physically. But we do not resemble the Suffering Servant when we take pains to show off our suffering. I'm not thinking of the Brit Hume ordeal now. I'm just thinking in general how we are tempted to gain the culture's approval by playing the culture's offense-taking game. If a law is broken or a legitimate right taken away, let us protest with passion. But if we are misunderstood or even reviled let's not go after short-lived and half-hearted affirmation by announcing our offendedness for the world to hear. Every time we try to make hay out of misplaced calumnies, we hasten the demise of Christianity in the public square. As offendedness becomes the barometer of acceptable discourse, we can expect further marginalization of Christian beliefs.
So buck up brothers and sisters. Most often in this country, we are not victims because of our faith. There are just as many people, it seems to me, standing to Brit Hume's defense as they are pillorying him. Let every Tom, Dick, and Harry in the world be crushed to (phony) emotional pieces when their ideas are scrutinized. We can chart a different course and trust that our beliefs can handle Keith Olberman's disapproval. We have no reason to be anxious, every reason to be joyful, and fewer reasons than we think to be offended.
Photo by Ivan Vranić on Unsplash