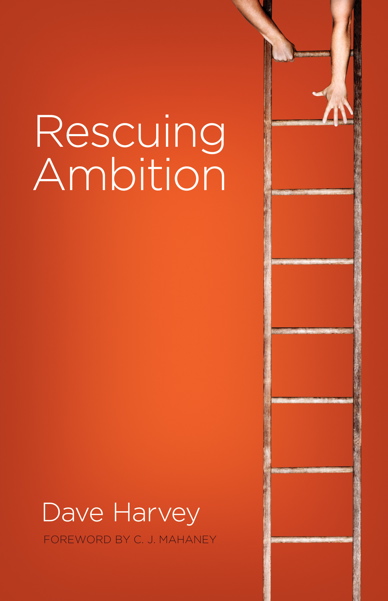 My friend Dave Harvey wrote a fine book on marriage called When Sinners Say "I Do": Discovering the Power of the Gospel for Marriage. His new book is called Rescuing Ambition. I love it. Interested in reading a portion of it, see these excerpts.
Here's my endorsement, followed by a few others:
"Dave Harvey thinks well, writes well, tells good stories, and cites people of substance and insight. I have long appreciated Dave's integrity, wisdom and perspective. Were I not afraid of feeding his ambition for greatness, or my ambition to write a memorable endorsement, I would add that Rescuing Ambition is biblical, honest, witty, and sometimes amusing. I'm happy to recommend this fine book on an important and overlooked subject." - Randy Alcorn, author, If God is Good and Heaven
"In Rescuing Ambition, Dave Harvey distinguishes ambition for the glory of God, which is good, from ambition for the glory of self, which is bad. But godly ambition doesn't exist in a vacuum, so Harvey helps us see how it is intertwined with humility, contentment, faith, and above all, the gospel. Dave Harvey is both an experienced pastor and a gifted writer, so you will find this book not only profitable but also hard to put down."- Jerry Bridges, author , The Pursuit of Holiness
"Dave Harvey teaches us that God wants ambition back in our understanding of godliness and spiritual health. As Christians, we are to be zealous for good works (Titus 2:13)—that is, ambitious for them. We are to be people who dream and do big things for the glory of God and the good of others. Let's not be content with small dreams cloaked in a guise of humility. This is a critical book for the church today because it helps us recover the spirit of William Carey, who ambitiously said 'Expect great things from God. Attempt great things for God.'" - Matt Perman, Director of Strategy, Desiring God Ministries
"Dave Harvey has delivered a compelling case for developing God-ward ambition in the lives of men and women alike. This insightful book carries a timely message in our 'whatever' culture: we all have ambition, but where it is aimed and how it is used is worth serious consideration. With self-effacing humor, Dave reveals how being wired for glory can either corrupt us or lead us to a divine agenda. Highly recommended!" - Carolyn McCulley, author , Radical Womanhood: Feminine Faith in a Feminist World and Did I Kiss Marriage Goodbye? Trusting God with a Hope Deferred.