February Giveaway: 90 Days of God's Goodness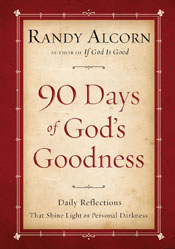 Here at the EPM office, it's always fun for our staff when Randy's new books arrive. There's something special about seeing a book in physical form that Randy has worked on for months. This month he has two new books, both available on February 8: The Chasm, a fiction book, and 90 Days of God's Goodness, a devotional.
We'll be hosting a Facebook party next week to celebrate The Chasm (more details below!), so for this giveaway, I wanted to focus on 90 Days of God's Goodness: Daily Reflections That Shine Light on Personal Darkness. The three randomly drawn winners of this giveaway will receive a copy of the devotional.
From the author of the best-selling books Heaven and If God Is Good, here are ninety meditations that will remind you of God's presence in your life and the good things he brings to you daily. Randy Alcorn offers his unique insight into the ups and downs of life, and his personal style infuses each day with powerful wisdom from the Bible. Whatever your journey, whatever your struggle, here is encouragement to help you walk in the assurance of God's love for you each and every day.
(You can read excerpts from the book in Randy's recent blog posts.)
How to enter the giveaway:
Leave a comment on this blog post through Monday, February 7. (If you're reading this post on Amazon or elsewhere, visit Randy's blog to leave your comment.) Need help posting a comment? Contact me at stephanie@epm.org.
The three randomly drawn winners will be announced in a blog post on Tuesday, February 8.
Once you've entered this giveaway, be sure to mark your calendar with the date for The Chasm Facebook party. It'll be on Tuesday, February 8 from 5 p.m. to 7 p.m. PT in the notes section of Randy's Facebook page. There will be giveaways, exclusive previews of the book and its artwork, and more. Randy will be joining us—hope you can, too! If you're not already following Randy on Facebook, go to www.facebook.com/randyalcorn and click "like" at the top of the page so you can join the party.
Stephanie Anderson
Promotions Director
Eternal Perspective Ministries
Stephanie Anderson is the communications and graphics specialist at Eternal Perspective Ministries.