Should We Be Against Hell or in Favor of It?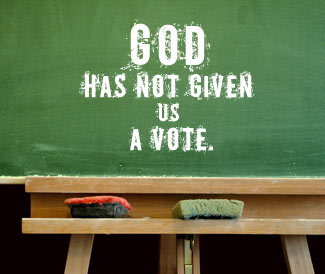 In many conversations over the last few years I've said to people, "If God had given me a vote on whether or not there is a hell, honestly I would have voted against it. But that is not a point of pride, it is a confession. Because the all-good, all-holy, all-loving, all-just, all-wise and all-powerful God decreed there SHOULD be a hell. Therefore, in moments of clear godly thinking I would bow my knee before Him and cast my vote with Him for the existence of Hell. But in any case, God has NOT given me a vote!"
One of my favorite thinkers and writers is Kevin DeYoung. His blog is always worth reading. In a recent post, Kevin says what I've been trying to say above, only better.
And while we're on the subject, a few weeks ago I blogged about Mark Galli's God Wins and Francis Chan's Erasing Hell. Mark and Francis dialogue in a very interesting Christianity Today interview.