Off to the C.S. Lewis Conference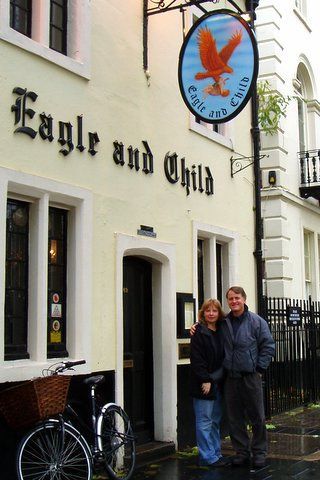 Nanci and I leave today for 12 days in Oxford and Cambridge where I'm teaching at the Oxbridge C. S. Lewis conference. I teach two seminars, one at Oxford and one at Cambridge, that are two afternoons each, plus a plenary session at Cambridge.
It turns out faculty marches in for opening ceremonies at both universities wearing academic regalia, with the colored cowls/hoods. So Nanci had to borrow a black robe and Luther-like cap from a nearby seminary. As someone who often speaks in jeans, this will be a bit of a change. :)
While we're there, we will visit again C. S. Lewis's home, the Kilns, and hang out at Eagle & Child, the pub where he and Tolkien and the Inklings had their weekly meetings. I've reserved a spot with Nanci for high tea at the Randolph Hotel (which you've often seen if you watch the BBC Morse or Lewis mysteries). Some sessions will be held where Lewis preached "The Weight of Glory," which is one of my favorites of his essays. At Cambridge (think Chariots of Fire), Lord willing, we will go punting on the river Cam.
I am especially looking forward to the adventure with Nanci, who has said if we lived any other place in the world, she'd want it to be Oxford. This will be our fourth visit to Oxford and our second to Cambridge, and both towns are magical. The buildings, the spires, the whole environment lives and breathes history. If anyone imagines Harvard and Yale are old, consider that Oxford was graduating students 400 years before Columbus discovered America. How young our country is!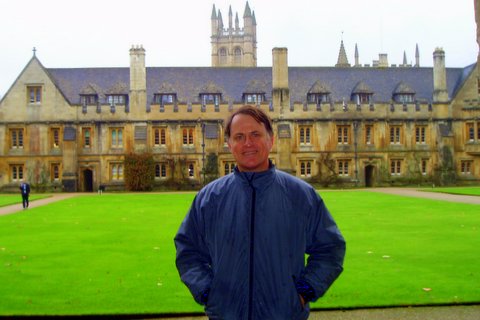 I would appreciate your prayers, that Nanci and I will enjoy the Lord and each other and all the divine appointments with others He brings to us. If you could pray for my speaking, which I would really appreciate, it will be Wednesday and Thursday July 27-28 from 2-5 PM at Oxford, on suffering, redemption and Romans 8. Then the following Monday and Tuesday August 1-2, from 2-5 PM at Cambridge, on Heaven, the New Earth and C. S. Lewis. My plenary session in Cambridge, which will introduce the topic of the seminar, is Monday Aug 1 at 11:30 AM.
The time in UK is 8 hours ahead of Pacific, 5 hours ahead of Eastern. Many thanks for your prayers!