Book Giveaway: Managing God's Money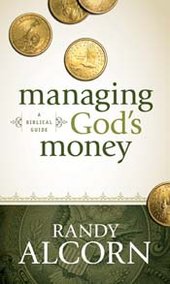 March 1 marked the release of Randy's new book Managing God's Money. This month, three randomly drawn winners from this giveaway will win a copy.
God cares a great deal more about our money than most of us imagine. The sheer enormity of Scripture's teaching on this subject screams for our attention. In fact, Jesus says more about how we are to view and handle money and possessions than about any other topic—including both Heaven and Hell. In Managing God's Money, Randy Alcorn breaks down exactly what the Bible has to say about how we are to handle our money and possessions in a simple, easy-to-follow format. Filled with Scripture references, Managing God's Money is the perfect reference tool for anyone who is interested in gaining a solid biblical understanding of money, possessions, and eternity.
Our staff is excited about this new book—we feel it will be a great resource not only for individuals wanting to learn more about stewardship, but also for churches and study groups. Managing God's Money covers many topics related to money and stewardship in an affordable, quality paperback form. (You can read an excerpt from the book and also view the table of contents which shows the extent of the subjects it addresses in question and answer form.) It's available from EPM for $4.79 (retail $5.99). We also offer a quantity discount of $3.59 per book for churches and groups who order 52 or more books.
Those of you who are familiar with Randy's other books on stewardship, Money Possessions, & Eternity and The Treasure Principle, might wonder how this new book differs from them. Managing God's Money includes portions of what Randy considers the most important subjects dealt with in his large book Money, Possessions, & Eternity. New material was added as he edited, so the final product is and feels quite different. Managing God's Money is for those who want a complete treatment of biblical stewardship, but at one fourth the size of Money, Possessions, & Eternity. While The Treasure Principle focuses on giving, Managing God's Money includes giving, but also includes God's ownership, lifestyles, debt, spending, saving, insurance, retirement, gambling and teaching our children how to be good money managers. (And a lot more, but still in a small book format.)
How to enter the giveaway:
Leave a comment on this blog post through Tuesday, March 8. (If you're reading this post on Amazon or elsewhere, visit Randy's blog to leave your comment.) Need help posting a comment? Contact me at stephanie@epm.org.
The three randomly drawn winners will be announced in a blog post on Wednesday, February 9.
Stephanie Anderson
Promotions Director
Stephanie Anderson is the communications and graphics specialist at Eternal Perspective Ministries.