My Mom's Impact as a Sunday School Teacher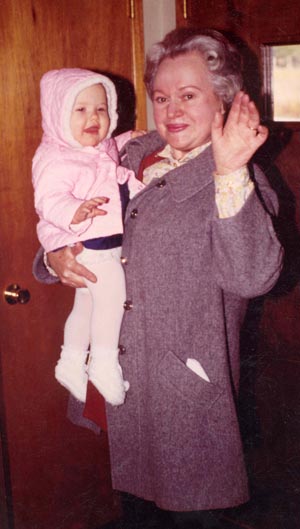 Recently, my friend Kathi Hedin sent me a letter, telling me about how her daughters having my mom as a Sunday school teacher when they were young inspired Kathi to begin teaching Sunday school herself. This was special to me, as I have such wonderful memories of encouraging my mom to say yes to an invitation to teach for the first time. Mom was terrified, and I told her she couldn't know if she was gifted to teach unless she tried it. Well, she did, and became, in my biased opinion, the best Sunday school teacher on the planet.
Before I was married, we'd often discuss what she was learning from her lesson prep. I witnessed how much time she spent preparing, writing lessons, making art work, writing notes to the girls, praying for them, and calling them. Cumulatively it amounted to a part-time job, some weeks easily twenty hours.
The only thing she did better than being a Sunday School teacher was being a mom and a grandma. She had only two and a half years with my daughter Karina and a couple of months with Angie, and in that time she invested more in them than I can calculate. (That's Karina that mom is holding in the picture.) I suspect she has been praying for them the last 29 years. I can't wait to see her again.
Here's some of what Kathi wrote:
We had just moved from a church that my 9-year-old daughter Jayne really enjoyed, and she was nervous about a new church. So I met with Lucille Alcorn who would be her new Sunday school teacher and immediately felt the love of Jesus radiate from her. I found out how much she loved teaching the young girls, and we discussed the many hours she poured into the class preparation. Not surprisingly, our daughter ended up loving attending her class. I was so encouraged when Lucille would call me once in a while and tell me how much she enjoyed having Jayne, and later on my daughter, Chrissy, in her class.

I remember one year I was so touched that she had a Christmas tea for her class. She gave all the girls little Christmas ornaments. We held onto that ornament for 35 years. Every time I took it out of our Christmas box, I remembered how blessed I felt by Lucille's love and support, and for the joy and great teaching she gave our daughters.

When she was diagnosed with cancer, I went to see her one week before she died. I held her hand and told her how much she did for our family and that I loved how she loved our daughters. I gave her a kiss on the cheek and said my last goodbye.

These experiences were a long time ago, but they have impacted me for thirty-three years. I didn't realize then how God was using Lucille in my life in an amazing way. At that time I never saw myself as a Sunday school or Bible club teacher.

But now I do teach Sunday school— in fact, over the years I have taught Sunday school in four different churches, and Bible clubs in three schools, in my home, and in a Hmong refugee apartment building which was a huge highlight. I have devoted myself to studying with diligence. And on December 18, 2010, I also had a Christmas tea party for one of my classes. (That's me in the red, with my girls.) Thank you, Lucille Alcorn, for giving me inspiration all those years ago.

God used Lucille Alcorn to show me more of Himself. There is nothing that happens to us—not a thing we see or hear or touch—that God cannot use to help us grow to know and serve Him in all we do.
Happy Mother's Day, Mom.