A Tale of Four Alcorns
Someone I'd never met came up to me after I spoke at a conference.
"I've got a problem with you," he said, face sour.
"Take a number," I said.
"You live in Oregon but your wife lives in Tennessee."
"Actually, no," I said. "That's a different Nancy Alcorn."
He stared at me, apparently assuming that being a liar I would blink. He told me he'd seen her on TV. And she's part of a ministry that helps people. And she was blonde. So there.
"I've met the Tennessee Nancy Alcorn," I said. "She's a terrific sister, and has a great ministry. And she's written some books. But she's not my wife."
Unready to accept my apparently lame explanation, he scrunched up his face and asked, "Are you sure?"
"Yes," I said. Then I paused for a moment. "Well, I'm pretty sure." I smiled. He didn't smile back.
Still skeptical he said, "How many blonde Nanci Alcorns with ministries can there be?"
In an inspired moment I said, "At least two." I went on to explain, "I'm married to the one in Oregon, and if she lived in Tennessee I would know. My wife's birth certificate says Nancy with a y, but she spells it with an i. That way people will know the other one who spells it with a y isn't my wife." (Actually she changed it in grade school).
I still think the guy didn't believe me, but here are the two Nancy Alcorns: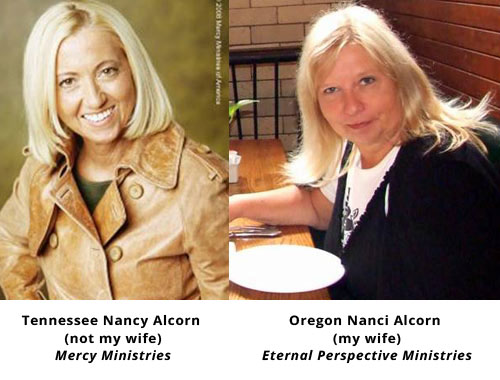 Tennessee Nancy Alcorn (not my wife) Oregon Nanci Alcorn (my wife)
Mercy Ministries Eternal Perspective Ministries
Once the Tennessee Nancy Alcorn signed a book for my Nanci. Nano (I do not call the Tennessee Nancy Alcorn Nano) wrote back to her and said, "You and I had better behave ourselves or we'll ruin both our reputations."
Now here's the second part of my story, which is what made me decide to do this Alcorn-distinguishing blog:
Today I bumped into an online letter to the editor. It's in italics below:
September 30, 2011 letter to the editor, Santa Maria Times:
Losing faith in Alcorn
Randy Alcorn's recent column in the Santa Maria Times proposed that presidential candidates should be secularists, since people of faith may not be "rational, objective or clear minded."
I would like to put Mr. Alcorn's mind at ease, by reminding him that most presidents throughout our country's long history have been intelligent men of faith who have governed fairly following the U.S. Constitution.
Mr. Alcorn suggests a president who is a Christian may use a religious belief system as a "tool of oppression, a hindrance to sensible public policy, and an obstacle to human intelligence." This is a disparaging statement and is totally unjustified.
Throughout his column, Mr. Alcorn imputes false motives to some presidential candidates. He repeatedly insults and denigrates people of faith by insulting their intelligence, their belief system, and the Bible. His column lacks a tone of civility that is sorely needed in our country. It was a great disappointment and not worthy of publication.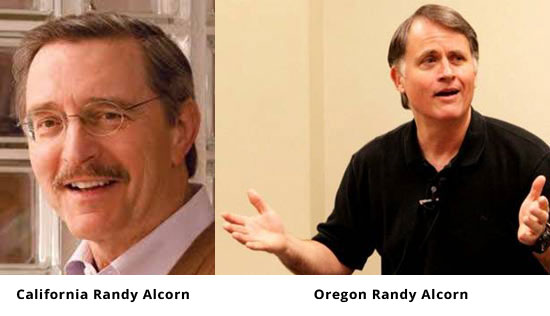 California Randy Alcorn Oregon Randy Alcorn
Okay, the letter to the editor is done. This is now me, the Oregon Randy Alcorn, the one not married to the Tennessee Nancy Alcorn, but very happily married to the love of my life, the Oregon Nanci Alcorn. (About the only thing I can tell you about Tennessee is that Nanci and I are Matt Hasselbeck fans and are glad he's doing well with the Titans; 8 touchdown passes, go Matt.)
"Okay, so how many writers named Randy Alcorn can there be?" The answer is…drum roll…at least two. I have never met him, but I have been blamed for things he has written. And I suspect he has been blamed for things I have written. I don't think he would want credit for most of what I write, especially since, being a person of faith and all, I may not be "rational, objective or clear minded" and I may be prone to using my belief system as a "tool of oppression" and "an obstacle to human intelligence." Other than those petty differences, Randy and I are pretty much on the same page. :)
I'll finish with this. Some years ago I got a letter from a guy in Virginia who said, "I walked into a bookstore and really felt like I needed some direction. I prayed God would direct me to a book He wanted me to read. I walked over to a shelf at random, looked up and I was stunned when I saw a book written by 'Randy Alcorn.' I took it as a pretty clear sign, since my name is Randy Alcorn. Then I read your bio. FYI, my wife's name is Nancy. So I said, okay Lord, I'll buy this book."