October Baby: A Strong Film with a Prolife Message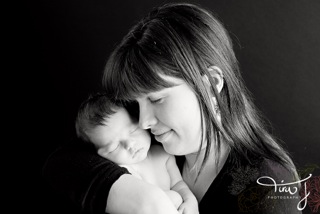 Before I get to today's post: our daughter Karina and her husband Dan's third son, David, was born last month. Here are some terrific photos of him and his brothers. As Karina's dad and one of David, Jack, and Matt's grandpas, I have to say "Wow!" Thanks to the photographer, Tira J, And thanks to Karina, my little girl, for being such a wonderful mom. And Dan for not only providing his 23 chromosomes to match Karina's, but also for being a great dad to his boys. And King Jesus for his often overlooked roles of "just" being Creator and Redeemer!!!!
"One generation will commend your works to another; they will tell of your mighty acts" (Psalm 145:4).
Now on to October Baby: this new movie will be in theaters March 23, and I encourage you to go see it. Nanci and I were sent a preview copy and really enjoyed it.
October Baby is a strong film with a prolife message. Plus, the producers have assigned 10% of the profits to the Every Life is Beautiful Fund, which will distribute funds to frontline organizations helping women facing crisis pregnancies, life-affirming adoption agencies, and those caring for orphans.
Check out the trailer and synopsis:
"You saw me before I was born." Psalm 139:16 (NLT)

As the curtain rises, Hannah hesitantly steps onto the stage for her theatrical debut in college. Yet before she can utter her first lines, Hannah—unscripted—collapses in front of the stunned audience.

After countless medical tests, all signs point to one underlying factor: Hannah's difficult birth. This revelation is nothing compared to what she then learns from her parents: she was actually adopted … after a failed abortion attempt.

Bewildered, angered, and confused, Hannah turns for support to Jason, her oldest friend. Encouraged by his adventurous spirit, Hannah joins his group of friends on a Spring Break road trip, embarking on a journey to discover her hidden past … and find hope for her unknown future.

In the midst of her incredible journey, Hannah finds that life can be so much more than what you have planned.
Gianna Jessen, speaker and abortion survivor, says, "I laughed so hard, and cried so hard, and healed."
Megan Basham writes in her World Magazine review:
The first thing that will strike many viewers on seeing October Baby, a Christian-made movie about a young woman who discovers she is the survivor of an abortion attempt, is how polished it is. Christian moviegoers have grown accustomed to overlooking some of the more common faults of films targeted at us: OK, the acting wasn't great, the dialogue was corny, but the message was good, the intent was good, and it may impact lives. All those things are true. Still, it is a little frustrating when we have to overlook shortcomings we suspect could have been remedied with a bit more patience or practice.

…A quick glance at the biographies of writer/directors Jon and Andrew Erwin, however, reveals that the brothers have plenty of miles logged on their professional odometers. Beginning as camera operators for ESPN and Fox NFL, then directing award-winning music videos and commercials, and later producing documentaries, they developed expertise in their craft that goes a long way toward making the worthy idea of October Baby a more-than-worthy viewing experience.