Rejoicing Despite Circumstances
Have you ever read the classic children's story Alexander and the Terrible, Horrible, No Good, Very Bad Day? When you first read the story, you think Alexander did have an unusual number of negative things happen to him, so no wonder he had a terrible day. But then you realize that Alexander's day was filled with irritations and stressors typical to us all. They are simply part of being alive in this far-from-perfect world that suffers under the curse.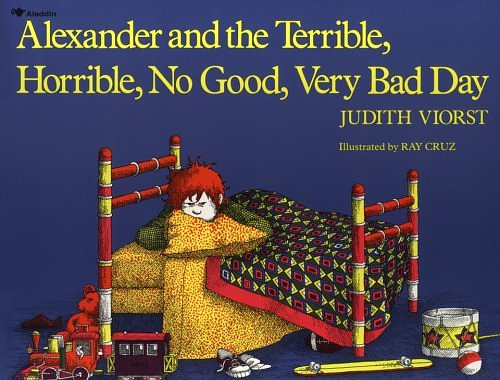 It should be good news to Alexander and to us that God is going to take away all pain, suffering, death and tears, so we can live forever with Him and His people on the New Earth, in absolute peace, health, beauty, and happiness (Revelation 21-22). Wow! If you remind yourself of this, won't it put what seems like a terrible, horrible, no good, very bad day in perspective?
Ponder that you deserve eternity in Hell, but Jesus went to the cross so you will get what you don't deserve, eternity with Him in Heaven. You were delivered from a truly horrible eternity and are assured an endlessly happy one. Doesn't that make a bad day not seem so bad? (Add to that the assurance of Romans 8:28 that even when you can't see it, God is working all things together for your good. Double wow!)
It's our loss of perspective that magnifies every little thing that goes wrong. Think about it. If today was difficult because "it wasn't a normal day," ask yourself, "When was the last time I had a normal day?" It wasn't Alexander's circumstances but his interpretation of and response to those circumstances that caused his terrible, horrible, no good, very bad day. Same with ours.
Circumstances aren't what makes a day—or a lifetime—good or bad. Why else are many people with beautiful homes, every material possession imaginable, financial security, and perfect health miserable…even suicidal? And how can many others who live in relative poverty and poor health be filled with the joy of life?
Consider Paul and Silas when they were in prison at Philippi. Both men had been flogged, and their feet were fastened in stocks in what in those days was surely a disease-ridden, rat-infested cell. How did they respond? "About midnight Paul and Silas were praying and singing hymns to God, and the other prisoners were listening to them" (Acts 16:25). Keep in mind that Paul and Silas rejoiced and sang with no knowledge of their impending escape through divine intervention.
What would most of us have done in that prison cell? Mope and grouse and weep and kick the walls and cater our own little pity party. It's when there's something different about us, when we are filled with "the peace of God which transcends all understanding," that we draw the attention of discontented, searching people in need of Christ.
Suppose your baby is born with Down syndrome or your family business is lost or your spouse leaves or your house is burned to the ground—are we suggesting these circumstances will not affect you? Of course not. We're only saying they need not control you. You can rise above them, as Paul and Silas and many others have done. When these things happen to Christians, the world will watch. And if it sees calm in the midst of storms, it will be drawn to Christ.
"Be joyful always; pray continually; give thanks in all circumstances, for this is God's will for you in Christ Jesus" (1 Thessalonians 5:16–18). The choice to give thanks in all circumstances is both the cause and the effect of a godly perspective—as well as a great reliever of stress.
photo credit: Rick Camacho via photopin cc