A Joy and a Privilege: Translations of My Books
One of the things I really love getting in the mail is a new translation of one of my books. They've been translated now into over 70 different languages. It's a joy to see what God is doing in other cultures with books that I've written.
In this video and the following transcript, I share about some of the translations.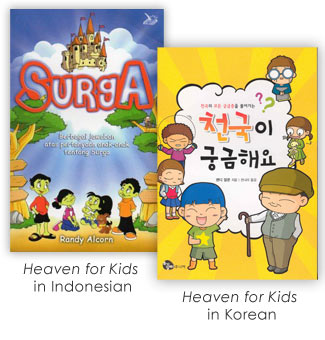 My book Heaven for Kids is in Korean. And when I first got it, I thought, "Isn't that cute? They've got all these Korean kids on the cover, and this old man with a cane." And then I realized that the old man with the funny-looking hat and cane is supposed to be me!
Heaven for Kids in Indonesian has a cover that includes a Disneyland-like castle, a monkey up in a tree, and green children. Puzzled, I sent an email to a friend who is a missionary in Indonesia and a good photographer. I've seen his pictures of Indonesian kids before, and none of them were green! So I asked him, "Are kids green in Indonesia? Are these photos you send color corrected or something?"
He said, "Well, not only are they not green, I have no idea why they would portray Indonesian children as green." But that is just one of the characteristics of another culture.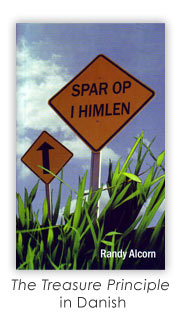 Another one I really like is the Danish translation of The Treasure Principle, titled Spar Op I Himlen. What it means is, "Saved up in the Sky." The idea is, when we invest our treasures in Heaven rather than on Earth as Jesus said, they're saved up in the sky.
I was really excited to receive a copy of my Heaven book that has been translated into the Nepali language. Back when I was in Bible college, they talked about Nepal and how there were only something like 15,000 believers in the entire country. And now, there's one-half million, maybe closer to a million, known believers and they are actually having Christian literature translated into their language. That thrills me and most importantly, I think it thrills the heart of God.
Our ministry received this note from a believer in Nepal:
Just got book of why Pro-Life - ( English) personal I studied ,it's very useful to my life and my work also need of our Christian community also Our Church youth , I long time ago I am working HIV Ministry , it's very full to me, at the moment I am spoken some of the Church and youth get-together , I feel your Eternal perspective ministries need our Place in Nepal , also I am praying.
Thank you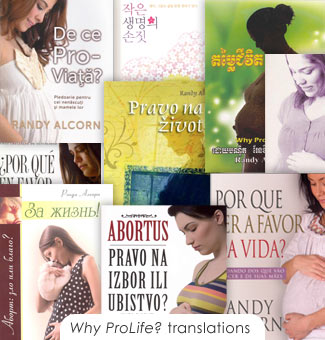 I've also been told that the translation of Why ProLife? into Nepali is now in progress. Why ProLife? is a book has been translated into (or is currently being translated) into over 40 languages, which is wonderful because of the potential impact it can have in saving the lives of unborn children. Here's another response we received about Why ProLife?, this one about the Russian version of the book:
I was especially excited to see the translation of Purity Principle and Why Prolife? into Eastern European languages. The Soviet system really aimed to demolish the family, with abortion the only "official" birth control, and I deal with women often here in Kazakhstan who have undergone numerous abortions (especially middle-aged and older women), and are now dealing with the pain of them all. Immorality among the young is as rampant as in the West, with very little responsibility. —J. O., Kazak Reader
People of every tribe and nation and language are being reached through the translation of Scripture as well as Christian literature. What a thrill and a privilege to have my books translated into so many different languages. (You can see the full list of translated versions on our site.)
Girl image credit: flaivoloka via sxc.hu