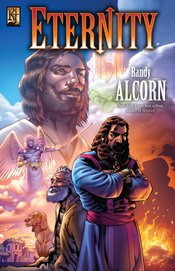 This week we're giving away 5 copies of Randy's graphic novel Eternity, which is based on Christ's story of the rich man and Lazarus found in Luke 16. If you're not familiar with the term, a graphic novel is an extended comic book form (128 pages, over 600 panels of full-color art). It was recently nominated as one of the five finalists for the Evangelical Christian Publishers Association (ECPA) Children's Book of the Year award. Though it didn't win we were encouraged by the nomination!
Since its release last June, our ministry has received some great comments from readers of all ages, including this 12 year old: "I read your graphic novel Eternity, and I really liked it. I was at camp this week and felt God working in me through the book. I loved how you portrayed Heaven and Hell in this story. This really made me wonder if I was really saved, and this week I think was the week of my true salvation. I hope that this same thing will happen to others who read this book!"
On the other end of the age spectrum, an 89-year-old reader wrote us to say, "I could not put Eternity down until I finished it!" We're grateful that readers are enjoying the book, and pray that many will come to salvation through Christ because of its message.
To enter the novel giveaway, please fill out the form below by 9 p.m. PT (12 a.m. ET) on Thursday, May 8 (go to the blog post if you're reading by email or on another feed). We'll announce the winners in Randy's blog post on Monday, May 12.
The giveaway has now closed.
By the way, through this Friday, EPM is offering Eternity for $10 (retail $16.99). This book is a great tool for sharing the gospel with those who may not be attracted to traditional books. The illustrations are stunning! Offer expires Friday, May 9, 11:59 p.m. PT.
Stephanie Anderson
EPM Staff
Stephanie Anderson is the communications and graphics specialist at Eternal Perspective Ministries.