We Need to Laugh at Ourselves (Try Checking out the Babylon Bee)
Over the years, I've observed some Christians who are perpetually somber, never laughing or poking fun at themselves, rarely celebrating, and quick to frown when they see someone having fun. They believe that happiness is ungodliness, and that having fun is a sin. It's not!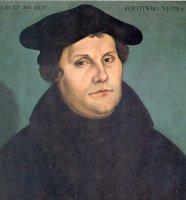 Though his portrait shows a somber expression, German Reformer Martin Luther (1483–1546) said, "It is pleasing to the dear God whenever thou rejoicest or laughest from the bottom of thy heart."[i]
As believers, we need to laugh a great deal more and a great deal less: more at ourselves and the incongruities of life, and less at immorality and mockery of what pleases God.
Laughter, for the right reasons, is scriptural. Psalm 126:2 says, "Then our mouth was filled with laughter, and our tongue with shouts of joy." By God's grace, even in times of difficulty, I've laughed hard, and I believe I've truly sensed Jesus' laughter joining mine. As long as no one gets hurt by them, I end up laughing at my stupid mistakes regularly, which allows me to find happiness in what otherwise could become frustration or embarrassment.
I don't laugh at my sin; I do laugh at my limitations and mistakes, often whispering to myself, "You're an idiot." (It's not self-hatred; it's being entertained by my innocent and…okay, sometimes dumb, blunders.) Laughing at ourselves can please God, relieve stress, and reflect humility—after all, proud people can't laugh at themselves and are outraged when others laugh at them.
Consider the example of one of my heroes, British pastor Charles Spurgeon. Dr. Larry Michael writes:
Many evangelicals know well the stern side of C. H. Spurgeon and his serious pursuit of the holy life. Indeed, his stands for righteous causes, and countering doctrinal error are often recounted. But many readers may not know that he was a man with a great sense of humor. Spurgeon knew the value of laughter and mirth. He virtually took to heart the word in Proverbs 17:22: "A merry heart doeth good like a medicine."

Spurgeon laughed as often as he could. He laughed at the ironies of life, he laughed at comical incidents, he laughed at the amusing elements of nature. He sometimes laughed at his critics. He loved to share wholesome jokes with his friends and colleagues in ministry. He was known to tell humorous stories from the pulpit. William Williams, a fellow pastor who kept company with Spurgeon, was a near and dear friend in the latter years of Spurgeon's life. He wrote:

What a bubbling fountain of humour Mr. Spurgeon had! I laughed more, I verily believe, when in his company than during all the rest of my life besides. He had the most fascinating gift of laughter . . . and he had also the greatest ability for making all who heard him laugh with him. When someone blamed him for saying humourous things in his sermons, he said, "He would not blame me if he only knew how many of them I keep back."

Spurgeon considered humor such an integral part of his ministry that a whole chapter in his autobiography is devoted to it. Humor permeates his sermons and writings, often woven into the fabric of his messages. It's one reason among many why he is still so readable today.
When I was a young believer, in the 1970s, I used to read The Wittenberg Door (often with my old buddy Larry Gadbaugh). It was a magazine which featured satirical articles on evangelical Christians, mostly—though not always—good-natured. The Door was, in my opinion, sometimes overcritical of evangelicals it disliked and undercritical of evangelicals it liked. Still, even when I was among those it considered naïve or off-base, I found myself laughing hard, and that laughter was therapeutic. The Babylon Bee, in case you haven't heard of it, is doing that now, in the form of short satirical news releases. Here are some that Nanci and I have enjoyed. Hope they make you laugh, and maybe learn something in the process. :)
LYNNWOOD, WA—Sources confirmed Tuesday that local freethinker Jared Olson called into question the "absurd" idea that God had ever done anything for him, all while inhaling oxygen and exhaling carbon dioxide in a complex process well beyond his mind's capability of understanding in its entirety.
KANSAS CITY, MO—Kansas City First Christian Church teaching pastor Sammy Tilson announced Sunday that associate pastor Dave Cromwell would be demoted to their church plant in Omaha following a brutal relief sermon appearance.
HOMEWOOD, AL—Upon returning from his Spring retreat with Grace Life Baptist's youth group, high-school senior Frank Middleton reported that despite the last five failed attempts, this time around he is pretty sure his rededication to Christ is really going to stick.
OAKLAND, CA—Shaking his head in disgust while huffing audibly, local man Jack Berlinski reported Thursday that Stephen Curry of the Golden State Warriors is clearly just a Christian ripoff of Michael Jordan, the secular professional basketball player who is widely considered the greatest of all time.
DALLAS, TX—Pastor and best-selling author of It's All About Jesus, Larry Richards, is known for practicing online the humility he preaches in the pulpit by retweeting only 75% of all compliments he receives on Twitter about himself or his books.
MARIPOSA, CA—Seasoned mountain climber Randall Jespers tumbled hundreds of feet down the El Capitan rock formation in Yosemite National Park Sunday after reportedly deciding to "let go and let God."
KENOSHA, WI—Pastor Doug Gosport, 53, admitted that his recent forays into "doing life together" with people in his church and community were really just an excuse to do whatever he felt like doing, sources confirmed Monday.
Fullerton, CA—Local father Trevor Michelson, 48, and his wife Kerri, 45, are reeling after discovering that after 12 years of steadily taking their daughter Janie to church every Sunday they didn't have a more pressing sporting commitment—which was at least once every three months—she no longer demonstrates the strong quarterly commitment to the faith they raised her with, now that she is college-aged.
LOUISVILLE, KY—Directing him to a private, dimly-lit room so any emotional reaction would be shielded from the throngs of attendees with cameras, John Piper reportedly sat David Platt down backstage at the Together for the Gospel conference Wednesday in order to gently inform him that everyone knows about 'Secret Church.'
KANSAS CITY, MO—The leadership team at Blue Valley Baptist Church confirmed Thursday that an employee working for Westside Landscaping inadvertently trimmed the hedge of protection church prayer-warriors had painstakingly prayed around the property, potentially exposing the church and its members to demonic attacks.
VENTURA, CA—Evangelicals have spoken, and it turns out their favorite Puritan is none other than Paul Bunyan. In a recent survey of self-identified Evangelical Christians aged 30-55 performed by The Barna Group, the 300-foot-tall lumberjack of American folklore beat out other Puritans like former presidential candidate John Edwards, actor-director Robert Redford, and hip-hop artist/reality TV star John Flavel Flav by a wide margin.
HOLLYWOOD, CA—In a bold declaration, Rob Bell has announced to the world that he firmly believes something about something.
HEAVEN—If you want to hitch a ride to the celestial kingdom and back, you'd better get your tickets as soon as possible. The Heaven Department of Tourism announced Friday that 2016 round-trip packages to the pearly gates have been sold out for months, and reservations for 2017 are selling out "very quickly."
U.S.—After weeks of speculation Yosemite Sam has finally thrown his 11-gallon hat into the ring. Although four states have already cast their ballots, the fiery prospector believes there is still plenty of time to make a strong run at the Republican nomination.
HOUSTON, TX—Joel Osteen, celebrity senior pastor of Lakewood Church, has been proclaiming the life-changing power of regular, vocal, positive declarations and self-affirmations for years, and for just as long has pointed to his own life and accomplishments as irrefutable evidence of their efficacy.
NEW YORK, NY—Stressing the precariousness of the situation, inside sources confirmed Monday that a gridlock has been reached in the social lives of David Gall, 23, and Mark Cormier, 26, as both men are absolutely, 100% certain that God has personally instructed them to date local 22-year-old Stephanie Fair.
SEATTLE, WA—Local youth pastor Bryce LoPresti blew a perfect chance to give a reason for the hope within him Tuesday when his neighbor finally inquired what his tattoo means.
HOUSTON, TX—The Texas Department of State Health Services has issued an order to Joel Osteen, bestselling author and pastor of Lakewood Church, to acquire a butcher's license in order to continue handling Scripture.
NASHVILLE, TN—In an announcement of sweeping changes, the GMA Dove Awards confirmed Thursday that the 2016 ceremony would feature all-new categories organizers are calling "more realistic."
---
[i] Martin Luther, as quoted in Tal D. Bonham, Humor, God's Gift (Nashville: Broadman Press, 1988), 245.
Photo credit: Josh Felise via Unsplash