Thoughts on Good Friday, Resurrection, Happiness, and More, from My Time at Harvest Fellowship
I had the pleasure of sharing at last weekend's services at Harvest Christian Fellowship in Riverside, California, in a Q&A with my friend Pastor Greg Laurie. Each time I've visited over the years, Harvest has felt like a second home, and I'm always glad for my time there.
Greg is not only a dedicated student of the Scriptures, but he also has a fun sense of humor. At each of the three services, he introduced me and announced I had written a "new" book. :) These are the three titles: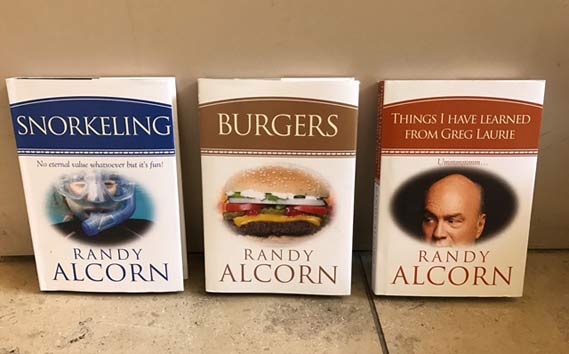 Though we covered a variety of topics, including happiness, giving, and rewards, we started off each service by talking about Palm Sunday, Good Friday, and Easter Sunday.
In this clip, we discuss why today is called "Good Friday."
Here's the full service.
May your heart be flooded with gratefulness and joy this weekend as you contemplate the Lord's redemptive work on the Cross, and His triumph over the grave!
Lord, thank you for planning the Cross from before the world's beginning and foretelling it centuries in advance. You descended from Heaven's happiness and lived here, laughed here, suffered here, and were crucified here. Saying thank you is not nearly enough. But it is at least a place to begin. So thank you for living as you did and dying as you did and rising as you did so I can live forever with you and your people in a world where you will, once and for all, make all things right.