Joni Eareckson Tada on Our Calling to Advocate for the Voiceless
Last weekend, my home church, Good Shepherd Community Church, had the privilege of hosting Joni Eareckson Tada and her wonderful husband Ken for a Sanctity of Human Life weekend.
Joni's a faithful servant of God, who has lived what Eugene Peterson called "a long obedience in the same direction." I can't think of anyone better qualified to speak on Sanctity of Human Life issues—Joni has been a faithful advocate for the disabled, the unborn, the elderly, and the voiceless.
As I share in my introduction before her message, Nanci and I have counted Joni and Ken as friends for years, and we had an unforgettable evening in their home years ago, talking about theology and doing lots of laughing and weeping together. They are the real deal. She and Ken have experienced much suffering in their 35 years of marriage, and as she told me when I interviewed her for my book If God Is Good, "Suffering is messy."
Because of the insights Joni has into something we all have faced, or will face, I cannot encourage you enough to get a copy of her Beyond Suffering Bible. It's a wonderful resource for every reader, and not just for those who are disabled, because our present life under the curse is hard (though we're guaranteed a glorious future with God and His people on the New Earth!).
Joni had specially asked for prayer on the Saturday evening she was speaking because of difficulty with her lungs, which are weak due to the quadriplegia (this year marks 50 years since the accident that left her paralyzed). A key part of the message from the Holy Spirit was in the vulnerability Joni displayed, and the tender, loving relationship between her and Ken, which you'll see as he assists her a few times throughout the service. As I told Ken, among other things, the message became a powerful picture of a Christlike marriage. You won't regret taking the time to watch what Joni shared with us that night:
After Joni spoke on Sunday morning, most of our Eternal Perspective Ministries staff gathered for lunch with her and Ken. Our ministry has enjoyed a special partnership with Joni and Friends (JAF) over the years, so it was a privilege to spend time together, including singing "Great Is Thy Faithfulness" before our meal.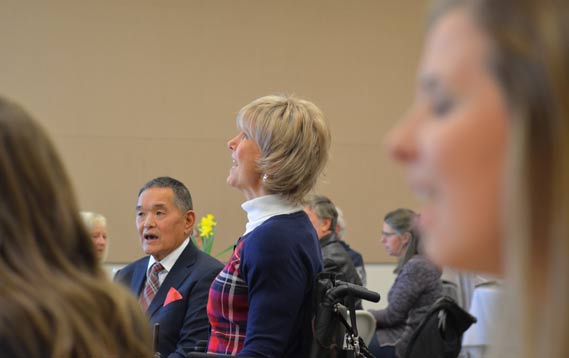 What a privilege for our EPM staff to have been touched by Joni's life and books and to support the wonderful ministry of JAF.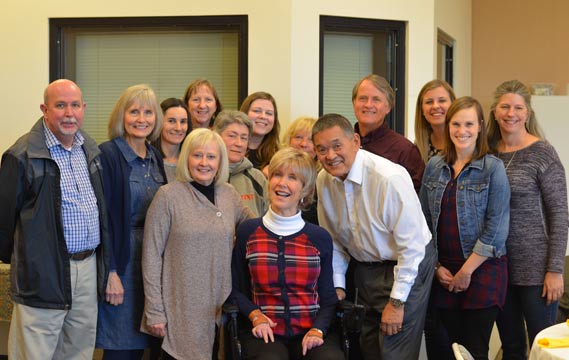 Looking for a wonderful need-meeting cause to support? Check out JAF's Wheels for the World, one of my favorite ministries.
Watch this 2-minute video and you'll be eager to give to this great cause.