When the Pastor Came to Dinner
The adorable girl in the photos is my wife Nanci, who is still just as adorable. When I was dating her in high school, and had dinner with her parents, her dad and mom first told me this story. In years to come, I heard it a number of other times. I found it charming and funny, and just like Nanci! I asked her to write it up so you could enjoy it too. —Randy
When I was four years old, we lived quite a distance from our country church. The roots for my family in that church went back to the days of all four of my Scandinavian immigrant grandparents. My father, Elmer Noren, was deacon, treasurer, or trustee at any given time so it was not an option to worship elsewhere when we moved to the neighboring town for my dad's new job.
One Sunday our pastor and his wife came over for dinner after church. This may be a common and comfortable situation for many families, but in those days the pastor was held in awe, and this was a rare occasion for us and therefore a very big deal in our house. The distance to our house was one reason this was an exceptional visit.
But the real reason for the drama was the nature of my family. We were a modest, stalwart, Scandinavian family. My dad, especially, was a very quiet man. His yearly re-election to service at our church was based upon his great wisdom, and desire to serve the Lord, not upon an outgoing temperament. My mother, Adele Noren, was very hospitable, and a great cook, but having the pastor over raised the bar for everyone's comfort level. The atmosphere needed to be friendly, but predictable, composed, and certainly respectful. My brother Ron and sister Donna were much older than I was, and knew how to behave around a pastor.
After some pleasantries, we led the pastor and his wife to the dining room table carefully set with our best dishes, silverware, and water goblets. The pastor, Cabot Johnson, was great at putting everyone at ease. Things were going smoothly. This was going to be a wonderful time of fellowship around our table after all! My brother and sister, many years older than I, were both the model of self-controlled, courteous young people.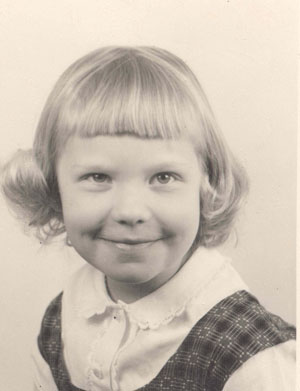 After a while, the pastor decided to step up the conversation a notch by asking what everyone thought of the sermon at church that morning.
Not only was I just four years old, I was also not cut out of the same cloth as the rest of my family. I was neither quiet, nor composed. I was certainly never predictable, and I didn't really understand who our guest was.
Well, it was then that Pastor Johnson's gaze turned to me, the little blonde girl whose face barely scaled the table top. "And what did you think of this morning's service?" My reply: "I love going to church, but sometimes that preacher just talks too long!"
Pastor Cabot Johnson laughed hard and long, which gave everyone else permission to laugh. And my family reminded me of this story for the next fifty years.
—Nanci Noren Alcorn