Nick Foles and Case Keenum, NFL Brothers Who Love Jesus and Are Starting Quarterbacks in Sunday's NFC Championship
There are many Christ-followers in the NFL, more than most people are aware. Through the ministry of Pro Athletes Outreach (PAO), in the past few years I've been able to speak to and meet hundreds of them, and develop personal relationships with several dozen, so we've had lots of interactions between PAO conferences.
Of the many fine young men I've gotten to know, quarterbacks Nick Foles and Case Keenum stand out as two of those most serious in their Christian faith, and most diligent in their personal Bible study. Among other things, both use Logos Bible Study software to help them study God's Word. (I also use Logos, and there's no better resource for serious Bible students. I highly recommend it!)
I've spent personal time with Nick and Case in a small group, where we talked and prayed together, and exchanged verses with them in texts and emails. I've had enough personal, phone, and email dialogue with both of them to say with certainty that they love Jesus and are true students of God's Word.
These brothers are the real deal, and they are personal friends who played together on the same team, one where life wasn't easy for either of them. (In the picture, that's Case Keenum on the left and Nick Foles on the right, when they played together for the Rams.) They are true competitors in the right sense, yet in the end they are brothers in Christ who love and respect each other. Please pray for both of them as they are the starting quarterbacks for this Sunday's NFC championship game. The winner and his team will go to the Super Bowl…needless to say, the other won't. But regardless of the outcome of this big game, in the ways that matter in God's sight, both Case and Nick are winners.
I've heard a lot this season from people who say the NFL is full of arrogant, overpaid young men who are anti-American. Why? Because a tiny percentage of the players chose to kneel instead of stand for the national anthem before some of the games. My point is not to address this issue and the racial concerns related to it, but simply to say there are many Christ-followers in the NFL, and they should be evaluated on the basis of their own integrity and behavior, not that of their teammates. People are making sweeping judgments against professional football players that are, in my opinion, unfounded.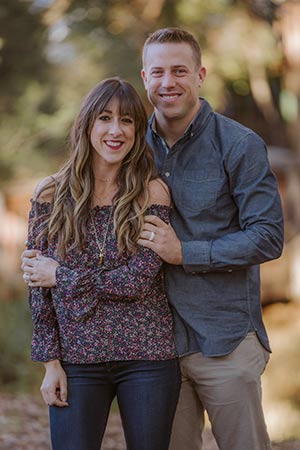 Honestly, I wish both Nick Foles and Case Keenum could go to the Super Bowl and win it! But of course, that's not how it works. Fortunately, both of them believe in God's sovereignty as much as I do. Barring injury, one or the other will be a starting quarterback in the Super Bowl. And the other who isn't will be every bit as important to God and to his wife and family as if he had won. Winning a Super Bowl is an understandable desire, but for the Christ-follower, hearing his Lord say "Well done" is far more important—just as it should be for the rest of us. (That's Case with his wife Kimberly in the picture.)
Certainly there are far more important things in the world, including many done by people whose names are unknown to the vast majority of us. But both of these young men are Christ-followers who seek to honor Jesus through the platform He's given them. Please pray for them and celebrate the fact that five months ago no one was predicting the Eagles versus the Vikings for the NFC championship. And even if they were, they weren't expecting Nick Foles and Case Keenum to be the starting quarterbacks. Of course, everyone who was expecting them not to be there was wrong.
(I should add that QB Carson Wentz, who started 13 games for the Eagles before being injured, is also one of the finest and most Christ-centered young men I know in the NFL. See his Audience of One Foundation. The same is true of Eagles special teams captain Chris Maragos, a great brother also out with an injury. Chris never fails to encourage me whenever we connect. Read his great testimony here.)
In case you missed it last Sunday, here's that "Minnesota miracle," Keenum's pass to Stefon Diggs, who scored the winning touchdown with no time left on the clock. It was truly one of the most amazing game endings in NFL history.
Here's Case Keenum giving honor to Christ, in an interview after the game.
And here's Nick Foles talking about Scripture and how he almost walked away from football, before God made clear He wanted Nick to keep playing.
Here's Carson Wentz, just after his season-ending injury, talking to fans and saying he was trusting Jesus and His plan.
Finally, check out this article about Trey Burton, Philadelphia Eagles Tight End, who has a heart to share the love of Christ with the city of Philadelphia. (Don't miss the link in the article to the podcast interview, too.) Trey is another great brother I met through PAO and chatted with after leading a pre-game Bible study in December with fifteen Eagles players and coaches.
If you want to read about what God's been doing in the Eagles locker room, check out this great feature article from Bible Study Magazine. Of course I'm not suggesting that the team with the most Christians will always win! I'm just saying that when people in any vocation honor Jesus, it's something to celebrate. (My apologies for talking more about the Eagles than the Vikings. No doubt, there are a number of Christians on the Vikings, and many avid Vikings fans who will read this; I just don't know them like I know the Eagles or I would link to them too!)
You might like to check out more articles from Sports Spectrum, a national publication that has been featuring Christian athletes for 15 years. I love their website! In a time where people are increasingly skeptical of young athletes, I'd encourage you to better understand and appreciate the many who are genuine followers of Jesus. Since your kids and grandkids, especially your boys, are likely to admire and listen to famous athletes, why not introduce them to those who know Jesus, giving them good role models instead of bad ones?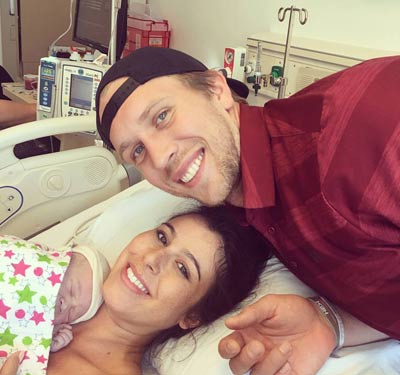 I'll conclude with a story about Nick Foles (pictured here with his wife Tori and daughter Lily). In December, when we were in Seattle to watch the Eagles play the Seahawks, Nick went out of his way to meet with Nanci and me, our daughter Angela, son-in-law Dan Stump, and our grandsons Jake and Ty. As we sat in a coffee shop, Nick, who had met the boys before, warmly challenged them to say no to temptations and follow Jesus with all their hearts. They will never forget it—nor will we. Anybody who speaks into the lives of my grandsons like that has my lasting gratitude.
In a world where athletes have such influence on young people, let's celebrate and pray for those who follow Christ and seek to be God-honoring role models. No matter who wins and who loses in Sunday's NFC championship game, I'm confident Nick Foles and Case Keenum will be among those players and coaches who honor Jesus.
"So whether you eat or drink or whatever you do [including playing and watching football and other sports], do it all for the glory of God" (1 Corinthians 10:31).
See also Super Bowl Sunday, Nick Foles, and a Great Half-Time Video You Can Use