What Happens When Youth Are Given the Opportunity to Help a Child in Need
Today's blog is about a nonprofit that's making a big difference in the lives of kids with medical needs, and also in the lives of youth in local schools. Our ministry has the joy of being a part of this through sponsorship! Here's more from Laura Queen, the Portland program director with Sparrow Clubs USA. I think you'll be touched by reading about their work and seeing the pictures of a child who has been helped. It was so fun to be there at this event at Reynolds High School here in Oregon. —Randy Alcorn
In many ways, today's world makes establishing relationships with other people harder than ever. Kids are glued to their cell phones, video games, and computers. While they may feel more "social," the truth is they are quickly losing one of life's most precious gifts—personal and meaningful connections.

What if we could get kids to realize the world is so much bigger than just them?

What if we could ignite compassion in those same kids?

Sometimes, it's as simple as giving someone an opportunity. That's the heart behind Sparrow Clubs USA. We connect local students at schools to children in medical need, giving hope and support for these children and their families. And as great as that is, something even more remarkable happens when a child in medical need, which we call their Sparrow, enters the school: compassion explodes. Students are given a reason to look up, to look around, to take notice and reach out to others in their community.

So how does it work? A business provides a set amount of sponsor money to a Sparrow Project at a local school. For every hour of community service students perform, $10 is placed in a Sparrow account for the family. As students raise funds, awareness, and support for their Sparrow, they begin to understand the value of helping others and the power of compassion.

Many young people struggle with feelings of isolation, loneliness, low self-esteem, and lack of purpose. By focusing on community service, the Sparrow program enables everyone to make a difference, regardless of popularity, economic status, athleticism, or intelligence. Often, for the first time, these students are part of something bigger than themselves.

Families with children in medical need face significant emotional turmoil, as well as financial hardships. Although health insurance coverage is now available to more individuals, additional costs such as travel expenses for specialized care, ongoing therapies, annual co-pays, and deductibles are out-of-pocket expenses for families. In most cases, parents caring for a critically ill child lose time from work—some have to leave their jobs—resulting in a reduction of income and inability to pay for these costs, let alone day-to-day living expenses. But Sparrow families no longer feel as isolated during the struggles with their child's medical issues as they are embraced by an entire school student body.

Community service takes on an entirely different meaning when students are introduced to an actual family, know their story, and understand their hardships. They want to contribute their time doing community service in order to benefit their Sparrow family, instead of feeling that their service hours are something they have to do in order to meet school requirements. Last year alone, over 14,000 hours of community service were performed by students involved in the Portland, Oregon Metropolitan area in support of their Sparrows, resulting in over $83,000 for local families with kids in medical need!

Not only are kids in medical need and their families helped, but there is also a lasting impact on the local youth. They learn lessons in conscience, courage, and character as they serve others in need. This spark of compassion can change lives for years to come, because youth with compassion become adults with compassion.

In January, Reynolds High School in Troutdale, Oregon launched their second Sparrow Project, this time sponsored by Eternal Perspective Ministries. Reynolds had an incredibly successful project in 2017-2018, with students completing over 1,400 hours of community service and raising over $3,500 for their Sparrow, Juno. Their new Sparrow is Joseph, a 14-year-old boy who was diagnosed with Ewing's Sarcoma and is undergoing chemotherapy. He recently received an overwhelming welcome from both students and staff. Learn more about his story:
Randy again: My friend (and former EPM board member) Jay Echternach and I were at two assemblies at Reynolds High School where Laura introduced Joseph to the student body. (We were also there four and a half years after the school shooting that left one student dead, two counting the student who shot himself, and a teacher injured.) It was very touching to see the students at the second largest high school in Oregon respond as they did at the opportunity to help Joseph! You might think these high schoolers wouldn't care much about helping a junior high kid. But they did care, and Sparrow Clubs, through Laura, helped them to care.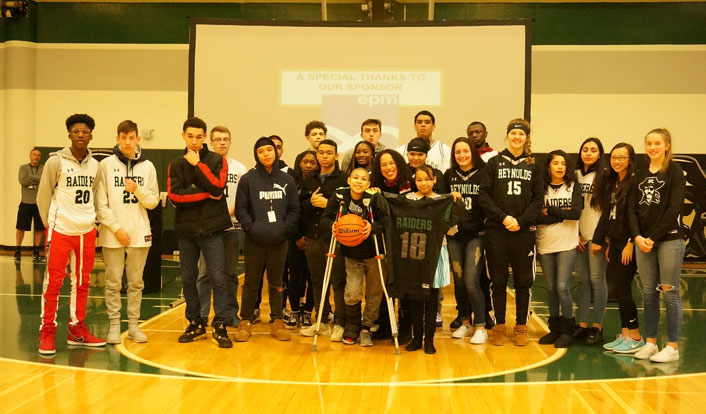 To learn more about sponsorship opportunities, and to see how you can get involved, visit sparrowclubs.org.