Meet Dr. Mildred Jefferson, First Black Woman to Graduate from Harvard Medical School and a Passionate ProLife Advocate
In honor of Black History Month, Live Action produced a video featuring Dr. Mildred Jefferson, the first Black woman to graduate from Harvard Medical School, in 1951. I had heard of her before but had never seen her speak. She is articulate and exudes an inner strength and conviction that's remarkable. I can see how she succeeded in persuading Ronald Reagan to become prolife and oppose abortion.
I read these words in an article about her death in an October 2010 New York Times. I've heard many excellent prolife speakers and tend to agree: "She probably was the greatest orator of our movement," Darla St. Martin, co-executive director of the National Right to Life Committee, said Monday. "In fact, take away the probably."
Having met many prolife advocates over the decades, I find myself wishing I'd met Mildred, and hope that I will meet her in a far better world and hear her stories over great meals in God's kingdom. I am rarely so moved by the piece of history reflected in this video. Dr. Jefferson's voice is timeless, and she needs to be heard today more than ever. Her message is pro–child, pro–woman, pro-African-American, and just plain pro-human. I wept at the eloquence and above all the truth and power of her words. Just listen and I think you'll see why.
Here's the transcript of her speech featured in this video, from 1978:
I became a physician in order to help save lives, not to destroy them. My earnest effort is to uphold medicine as a high calling, a sacred profession. The Hippocratic tradition, fused with the Judeo-Christian sanctity of life ethic, requires that a doctor demand of oneself a high standard of moral commitment and a code of disciplined personal conduct before undertaking the responsibility for another person's life.

The United States Supreme Court's 1973 decisions on abortion gave to my profession an almost unlimited license to kill when the High Court made getting rid of a baby a private decision between a woman and a doctor. The state may make regulations to the point of prohibiting abortion if it chooses only in approximately the last three months of pregnancy, and even then may make no law which would overrule a doctor's medical judgment. There is a lure in this license which has a hook for the unwary doctor. The doctor who willingly accepts destroying life will have no grounds on which to object if the state should compel that doctor to destroy life. I will not accept the proposition that the doctor should relinquish the role of healer to become the new social executioner.

It is unconscionably unfair that the victim selected on which to test this social remedy of expendable lives is the most defenseless member of the human family—the unborn child, who cannot escape, cannot riot in the streets, and cannot vote. As a woman, I'm ashamed that the voices raised loudest in this demand to destroy the unborn children are those of other women. Blinded by an all-absorbing selfishness, these women are trying to force society to grant them rights without the responsibilities that our social contract demands, and privileges without the payment that our moral order commands. This is a difficult situation. The woman who willingly demeans the nurturing instinct and tries instead to deny or to cancel or destroy her own unique biological capability creates a new model of female being—one who isn't changed into a man, somehow never quite grows into a woman, and becomes, in a metaphysical sense, a little bit less than human.

I am at once a physician, a citizen, and a woman, and I am not willing to stand aside and allow this concept of expendable human lives to turn this great land of ours into to just another exclusive reservation where only the perfect, the privileged, and the planned have the right to live.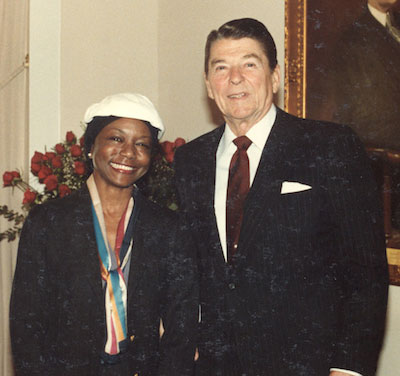 Finally, if you want to know more about Mildred Jefferson, and I hope you do, here's an 11-minute tribute from National Right to Life. It shares more about Dr. Jefferson's life and legacy, including how she persuaded future president Ronald Reagan to become prolife. (In fact, during the first term of his presidency he wrote the book Abortion and the Conscience of the Nation, which I read immediately after its release. It was a joy for me to learn the role Mildred Jefferson played in influencing him and countless others.)
Browse more prolife articles and resources, as well as see Randy's books Why ProLife? and ProLife Answers to ProChoice Arguments.