Eternal Perspectives: Winter 2011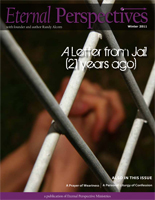 Q&A with Randy on Christmas
Should I Speak Up for the Unborn?
A Letter from Jail
Where the book royalties go
The Local Church: Training You for Ministry
The Love Gift
A Prayer of Weariness
A Personal Liturgy of Confession
You can sign up to receive our quarterly newsletter in the mail, or sign up to receive a notification when the latest issue is posted online.
You can download the PDF to print and share.