Eternal Perspectives: Winter 2012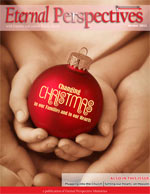 This issue includes:
Q&A : Why do many Christians avoid fiction stories?
A Prayer: Valley of Vision
Prolife Resources
Changing Christmas in Our Families and in Our Hearts
Q&A: Courageous
Plugging into the Church
Living for Christ Today to Prevent a Future Sorrow of Regret
Setting Our Hearts on Heaven
Sexual Temptation: 3 Critical Facts You Need to Know
Sexual Purity Resources
You can sign up to receive our quarterly magazine in the mail, or sign up to receive a notification when the latest issue is posted online.
You can download the PDF to print and share.