Eternal Perspectives: Summer 2012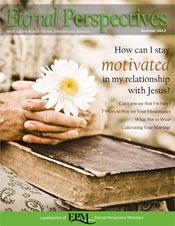 This issue includes:
Dig Deeper in God's Word: Study Guides from EPM
Can We Be Good Without God?
Evaluating Movies in Light of Scripture
Can't you see that I'm busy?
What Not to Wear
What to Do If You Wake Up Feeling Fragile
Cultivating Your Marriage
7 Ways to Pray for Your Missionaries
How can I stay motivated in my relationship with Jesus?
You can sign up to receive our quarterly magazine in the mail, or sign up to receive a notification when the latest issue is posted online.
You can download the PDF to print and share.