Eternal Perspectives: Fall/Winter 2017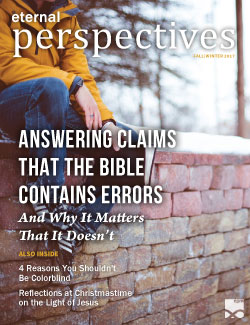 This issue includes:
Abba, Father by Randy Alcorn
Let Us Bless His Name by Charles Spurgeon
The Deadly Life of Ease by Randy Alcorn
Answering Claims That the Bible Contains Errors by Randy Alcorn
4 Reasons You Shouldn't Be Colorblind by Trillia Newbell
A Light Has Dawned by Randy Alcorn
Tim Keller on the Christmas Message
Download the PDF to print and share.
We invite your feedback!
Sign up to receive our magazine in the mail for free, or to receive a notification when the latest issue is posted online.