Eternal Perspectives: Spring/Summer 2018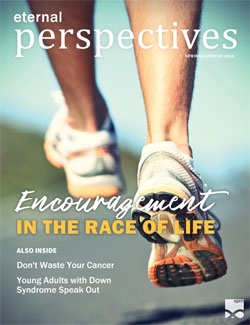 This issue includes:
Don't Waste Your Cancer by John Piper
Heavenly Encouragement in the Race of Life by Randy Alcorn
Satan's "Nothing" Strategy by Tony Reinke
Young Adults with Down Syndrome Speak Out by Randy Alcorn
Download the PDF to print and share.
We invite your feedback!
Sign up to receive our magazine in the mail for free, or to receive a notification when the latest issue is posted online.