Investing In Eternity: An Article for New Man Magazine
(A Finance Column written for New Man magazine, published June 1997)
If you have enough food, decent clothes, live in a home that shields you from the weather and own some kind of reliable transportation, you are in the top 15 percent of the world's wealthy. Add some savings, a hobby like hunting or fishing that requires equipment, two cars (in any condition), a variety of clothing and your own house, and you have reached the top five percent.
You may not feel wealthy. But that's because you're comparing yourself to someone who owns even more.
To get a better handle on reality, consider that more than 1.1 billion people in the world live on less than the equivalent of one U.S. dollar per day. Five hundred million people are hungry and another 500 million are so poor they don't get enough food to be fully productive.
Though the proportion of the world's hungry is slowly declining, population increases mean the number of hungry persons is the highest in history. Every day nearly 75,000 people, most of them children, die because of dirty drinking water, disease or malnutrition.
By the year 2000, two billion children will live in extreme poverty or high-risk situations. By 2020, the number of street children is expected to skyrocket from today's 100 million to 800 million.
Much of the world lives with an even worse shortage: the good news that Jesus died for our sins and is the way to eternal life. Ninety-five percent of these unreached groups live in an area from West Africa to China known as the 10/40 Window. Of these 3.1 billion people, two-thirds have never heard of Jesus, at least not as Savior. (Eighty-five percent of the world's poorest also live in this region).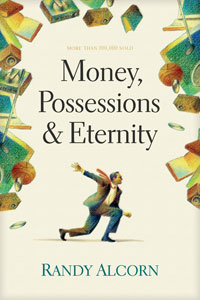 I don't share these statistics to heap guilt on you or because I advocate taking a vow of poverty. But when it comes to investments, too few Christians consider the importance of in vesting in eternity.
In 1989 I wrote a book called Money, Possessions and Eternity, in which I discussed the need to think far beyond the 20, 30 or 40 years to retirement. Each of us needs to ask ourselves what we're doing with our money that will make a difference a million years from now.
While this book wasn't a best seller, it provoked tremendous reaction. One pastor told me it led him to sell his BMW and give the money to missions. The reality simply hit home that he should pursue eternal rewards by storing up treasures in heaven instead of on earth.
The world hasn't changed much since 1989, at least when it comes to self-preoccupation. While this isn't unique to America, our society cultivates materialism in powerful ways. As the earth holds the moon in orbit by its gravity, the more possessions you have the more likely they will hold you in their gravity.
Loosening the grip of materialism on our lives is a good reason to live more simply. There are a thousand ways to do this. We can buy used cars instead of new, choose a modest home over an expensive one, shop at thrift stores and own a bicycle instead of a second car.
What's the point? Paul explained in Ephesians 4:28 that the reason for productive work was so we could "have something to share with those in need." When we earn more, we should use those resources to help others. God doesn't call us to increase our standard of living, but our standard of giving.
As Christians, we must always be concerned with spreading the gospel through missions work. But we also need relief and development agencies to provide food and medicine. You can't convert a man who is so hungry he can't sit up.
How can I be sure the money I give will be used wisely? If your church isn't doing anything to feed the hungry and reach the lost, be an advocate for starting an outreach. Just because you can't reach the world is no reason not to help one, two or ten. How do you feed a billion hungry people? One at a time.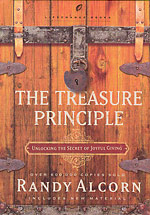 There are also many missions, hunger relief organizations and evangelistic organizations that need help. Before giving to one, do your homework to make sure they will use your donations wisely. Pastors, missionaries and missions professors at colleges and seminaries are good sources of information about foreign ministries.
You also need to know that the ministry is Christ-centered and biblically sound, that its leaders have character and integrity, and that it maintains accountability for how it spends its funds.
Consider, too, where it devotes its efforts. Ninety-five percent of Western missions money and resources go to areas of the world where there is already an established or emerging church. Only five percent help areas where there is no church.
Finally, don't forget the personal payoff for investing in eternity. In Matthew 6:20, Jesus said, "Lay up for yourselves treasures in heaven." If your treasures are on earth, each day you are moving away from them. If your treasures are in heaven, each day you are moving toward them.
He who spends his life moving away from his treasures has reason to despair. He who spends his life moving toward his treasures has reason to rejoice.
The author of more than 50 books, Randy Alcorn is the founder of Eternal Perspective Ministries in Sandy, Oregon. He tries to communicate the strategic importance of investing time, money and possessions in need-meeting ministries. You can access the organization's home page at www.epm.org. Ken Walker, a freelance writer in Louisville, Kentucky, assisted with the preparation of this column.
For more information on the subject of money and possessions, see Randy Alcorn's books Money, Possessions & Eternity and The Treasure Principle.