Memorial Rose Garden
"For the Glory of God, the Giver of all life, we dedicate this rose garden in memory of unborn babies who have taken 'early flight' to the Lord Jesus Christ. Though never held on earth, we honor them at this garden, and hold them dear in our hearts. The garden is also a place to reflect on the comfort, healing and forgiveness that come from Jesus Christ."
Cobb Pregnancy Services, May 11, 1997
These are the words engraved on the dedication stone at the Memorial Rose Garden on the grounds of Grace Community Church in Marietta, Georgia.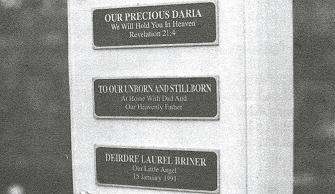 The idea for the Memorial Rose Garden was birthed in the hearts of Dave and Audrey Stout after Audrey had visited the National Memorial to the Unborn in Tennessee. At the time Dave was the pastor of Grace Community Church, and the memorial was a joint effort of the church and the local crisis pregnancy center (Cobb Pregnancy Services) where both Dave and Audrey served on the board of directors. The garden is a physical, visible "statement" that brings an eternal perspective to the abortion issue, an issue that must be addressed both in the world and in the church.
Housed in a relatively small area, it's a quiet, solemn place with gorgeous roses surrounding the entrance and gracefully growing along the walkways. Small plaques with powerful words of dedication to precious babies line the posts.
Throughout the day and into the evening people come and go. Since it's located right next to the church parking lot it is a visible reminder to those coming to church services of the sanctity of human life. Young children grow up with this weekly reminder that life is precious and God is the author and giver of life. Teenagers regularly see the garden and remember the importance of making godly decisions about life. The eternal impact of the garden has certainly surpassed the expectation of the vision behind it!
One church member, a retired man, told about his unbelieving daughter who had already had at least two abortions. When she came to Marietta to visit him, he took her out to the memorial garden to talk about her life and choices. Recently pregnant again, she called to say she had decided to give her baby life. Her father believes it was the presence of the memorial that saved his grandchild.
Another young girl, deeply grieving over her abortion decision and the loss of her child, comes by every couple of months and leaves a rose on the dedication stone. Through her baby's death she came to eternal life through faith in Jesus Christ after the post-abortion counseling she received.
A young couple grew up in a nearby church and aborted their first child before they were married. They are presently involved in the same church and had never confessed their sin to anyone. The wife called two of her closest church friends to get together for an evening out. She took them to the memorial rose garden where she shared about her abortion. It was a place to go for a time of confession and restoration. This woman is now involved in helping other young women through a crisis pregnancy.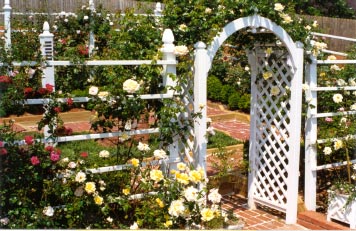 Through the help of post-abortion counseling women can experience the healing power of Christ's love and forgiveness that only He can give. They then have a place to go to give honor and recognition to the precious life of their child that was lost. Memorial plaques are also placed for children who die by miscarriage or ectopic pregnancies. This serves as a reminder that a child, not just a pregnancy, was lost.
Memorial services (both private and public) are held at the garden throughout the year... whenever plaques are placed, on Mother's Day afternoon, and at the completion of post-abortion Bible studies offered through Cobb Pregnancy Services.
According to Dave and Audrey the financial cost was fairly minimal in comparison to the wonderful benefits. Through the help of volunteers costs were cut even more and there was added benefit of people working together for this common cause.
When Randy Alcorn visited this memorial, he said, "I was deeply touched that a local church and a pregnancy center would cooperate to create such a powerful place. Both times I went there, I sensed the presence of God. This is something almost any church can do. I hope these memorials spring up all over the country."
What about a memorial on your own church grounds? What a powerful testimony of God's love and grace!
Kathy Norquist works in Ministry Development for Eternal Perspective Ministries, and is also on the EPM's Board of Directors. She was Randy's executive assistant from 1997-2015, and was also previously one of his secretaries when he was a pastor.