Come Away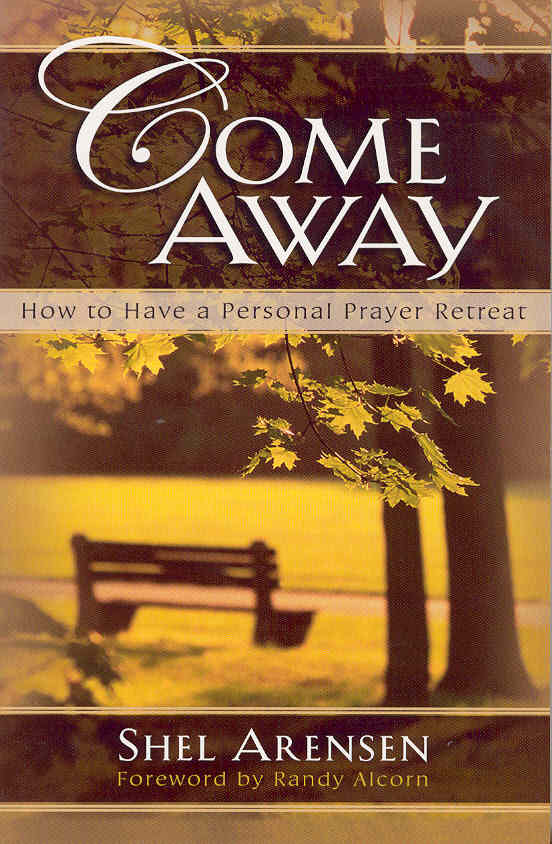 The following is a foreword written by Randy Alcorn for Come Away, by Shel Arensen (now out of print).
"My sheep listen to my voice," Jesus said. Have you been listening to his voice lately? Have you been putting your ear to his Word and asking him to speak to you?
Have you been sitting at the feet of Jesus, as Mary of Bethany did, turning your back on a thousand distractions to enjoy the presence of your bridegroom, the Carpenter from Nazareth—the one who said he was going to prepare a place for you and coming back to get you so you can be with him forever?
We were made for a person and a place. Jesus is the person. Heaven is the place. We'll never be satisfied with any person less than Jesus, and no place less than heaven. We won't be fully content until we're home with our Beloved. But the closest we can get to contentment—and to heaven—while we're still here as aliens and strangers on this earth, is when we Come Away with Jesus and get away from his substitutes.
Shel Arensen is right on target when he says, "Whether we realize it or not, we desperately need to spend time with God." Many of us realize it, but only sporadically. No sooner do we sense he's the one we're longing for, that he's the cold refreshment for our parched throats, then we turn to lesser streams that cannot quench our thirst. We let that still small voice of God get buried under the din of our busyness. Television, radio, email, classes, sports, business trips, chores, hobbies. Up early, to bed late. Music turned up loud. Talk shows where we hear from everybody but the One who knows everything.
How does this all fit with "Be still, and know that I am God"?
John Piper says God is most glorified in us when we are most satisfied in him. We will only be satisfied with God if we go out of our way to spend special time with him.
In the spring of 1988, Nanci and I and our daughters, Karina and Angela, then only seven and nine, spent two weeks with Shel and Kym Aresen and their children in their home in Kenya. We'll never forget those people or that place. We celebrated Easter in a large hut with backless benches, worshipping God for hours, delighting to the children as they danced to the music. We looked down over the great Rift Valley, and listened to the monkeys chatter in the trees over our heads.
Sitting here in my office in Oregon, I just turned my head to the left to see a picture I took there of a tall young Maasai woman and her child, who seemed to appear out of nowhere as we picnicked on a game reserve with the Arensens. We still have a Maasai spear in our basement.
We saw wildebeests and zebras, giraffes and gazelles, heard lions and saw hippo tracks outside our tent. Our four-wheeler was chased by baboons. (We found out later the Arensen boys were throwing cheese snacks out the sun roof.) We drove to the coast, to Malindi, where Shel warned us to run through the shallow waters into the Indian Ocean to avoid burning our feet. (In Oregon you run through ocean water for another reason—to keep your feet from getting numb!)
We saw insects so big they cast shadows. Early one morning our daughters looked at us wide-eyed and one of them said, "Daddy, there's a giant leaf with legs standing over my hair brush." I went into the bathroom and stopped in my tracks. It was—well, a giant leaf with legs, straddling a hair brush. I've never seen an insect like it before or since.
Kenya is an exotic place, but what we saw that really stuck with us was more than these things I've recounted. It was the quality of Kim and Shel's life. We saw the fruit of Shel's years as editor (following in his father's footsteps) of Today in Africa, a quality Christian magazine that built up the body of Christ and reached out to unbelievers. We saw how the Arensens cared for people and built their family around the things that matter.
Years later Nanci and I sat with Shel and Kym in Oregon, where they told us that they believed God was calling them to step away from the work they'd been doing all those years. Not content to be comfortable, they wanted to start a new missions adventure, to evangelize and plant churches among the unreached Dorobo people, a tribe of hunters and gatherers.
"Fantastic," we said. "Wow," we said. To step from a long term established ministry in Kenya to such a work among an unreached tribe was as radical as it would have been for us to leave America for Africa.
But they did it, crying out to God to prepare the way for them. God answered that prayer powerfully. And now there are five hundred Dorobo people who know Jesus Christ as their Savior, and more than 20 churches planted among the Dorobo where there were none before.
I tell this story for one simple reason—if I'm reading a book on prayer, I want to know whether the person writing it has walked with God in the crucible of life, drawing on his strength to do what could not be done without him. Shel and Kim Arensen have. So what's on these pages is more than just words.
This isn't only a good book on prayer retreats, it's a good book on prayer. It's full of Scripture, which has a power nothing else does. (God never says our points and anecdotes won't return unto him without accomplishing their purpose—he says his Word won't.) It's simple yet profound. It's clearly written, as you might expect from someone whose job for many years has been putting truth into understandable terms. It's richly illustrated, with a fascinating African flavor, but readily cross-cultural. It's practical. You won't just walk away with theory, but specific ideas of what you can do to Come Away with God and enjoy his presence.
What could be more important—and more satisfying—than to set aside time to confess, give thanks to the Lord, recognize his greatness, intercede for others, open his Word and seek after God?
I enjoy regular time with God, and have had prayer and Bible study retreats before. Some of my sweetest memories are of days given over to God—having meals with just him, taking a long bike ride with him, talking with him, reading good books with him by my side, listening to his Word and asking him to speak to me. But as I read this excellent book, I realized it's been too long since I carved one of these times into my schedule. Well, I fixed that. I picked some spots on my calendar and wrote in God's name. After reading this book, I think you'll likely do the same. I'm looking forward to those days. So will you. "Open your servant's eyes," Elisha prayed. And God did open his eyes, to the invisible realities of the spirit realm we're often blind to. May our eyes be opened as we step into the unseen realm to walk with God, and he steps into this realm to walk with us. May he use Come Away to draw us into His presence and empower us in a way that changes the world around us.