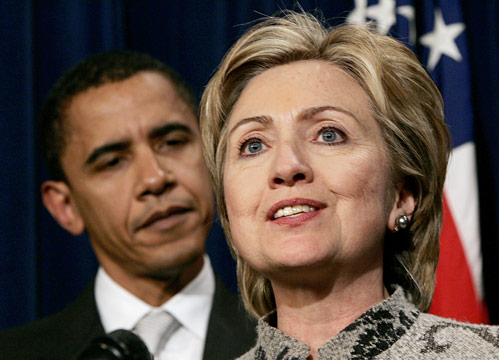 The question is not asked too often as candidates crisscross America, but it most often is asked in Oregon, the leader in physician assisted suicide.
Both Clinton and Obama were asked their position on the issue while campaigning in Oregon over the past couple of weeks.
Both waffled.
It's not surprising that they would, because while Oregon voters approved the law, other states have not. Yet.
Both candidates are pro-abortion, but what about assisted suicide?
Their answers are not surprising but are rather revealing.
The Eugene Register Guard published an interview with Clinton covering a wide range of topics, including the question, "What's your attitude toward Oregon's assisted suicide law?"
Her answer was crafted for people on either side of the issue. She said, "I commend Oregon on this count, as well, because whether I agree with it or not or think it's a good idea or not, the fact that Oregon is breaking new ground and providing valuable information as to what does and doesn't work when it comes to end of life questions, I think, is very beneficial."
It seems that that is a yes, but it might be a no. I guess it depends on which side of the issue one stands.
When pressed, she said she thinks it "is an appropriate right to have," with appropriate safeguards.
On May 6, 2004, Steve Ertelt at Lifenews wrote that assisted suicide in Oregon did not have the appropriate safeguards for the mentally ill. His article is informative.
On April 17, 2004, Alex Schadenberg, also writing for Lifenews, wrote an excellent article covering a number of issues relating to Oregon's assisted suicide titled, "Assisted Suicide in Oregon: Lessons Learned and Unanswered Questions." This is an excellent article for anyone who is prolife. I strongly recommend it.
Clearly Clinton has not read it. Nor has Obama.
The Medford Mail Tribune, on March 23rd, asked Obama about assisted suicide and medical marijuana and if he supported those two concepts.
He said he was aware of the concerns of moving toward euthanasia, however, he said, "I think the people of Oregon did a service for the country in recognizing that as the population gets older we've got to think about the issues of end-of-life care."
Somehow when I think of "healthcare," abortion-on-demand as a birth control option and assisted suicide as an "end-of-life" healthcare practice does not seem particularly inspiring. But then legalized killing of unborn babies or the elderly has never been inspiring to those who are prolife.
Both of these candidates seem to favor assisted suicide.
Clinton calls it, "an appropriate right to have" and Obama feels Oregon is "serving the country" by enacting such a law.
In their world, those who lead in normalizing abortion on demand and assisted suicide are social heroes and should be recognized as such.
This election is the most important in your lifetime. Please be informed and then be active.
Originally placed on the Faith and Freedom website: http://www.faithandfreedom.us/weblog/blogger.html