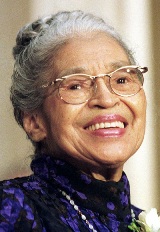 The world knew Rosa Parks as a civil-rights icon: the quiet, shy, unassuming seamstress who on Dec. 1, 1955, refused to surrender her seat on a Montgomery, Ala., city bus to a white man, as local law required. Her arrest led to a 380-day bus boycott, a U.S. Supreme Court decision that desegregated public transportation in the city, mass protests that catapulted Martin Luther King Jr. to fame, and wide-ranging changes in the social order.
That part of her story most everyone seems to know. But, unknown to many, before she was a civil-rights catalyst, she was a devoted Christian who memorized Scripture and taught Sunday school. In her own words, it was her faith that sustained her and mattered most throughout her life. She was convinced that God's power and love could overcome everything, including bigotry.
"As a child," she wrote in her 1994 devotional-style journal, Quiet Strength, "I learned from the Bible to trust in God and not be afraid." She added: "I felt the Lord would give me the strength to endure whatever I had to face."
Parks grew up in the African Methodist Episcopal Church (AME), a denomination founded in Philadelphia in 1816 by Bishop Richard Allen, a former slave. Born in Tuskegee, Ala., she was baptized Rosa McCauley in 1915 at age 2. From childhood on, she read the Bible, prayed, went to church regularly, and loved singing hymns, she wrote. As an adult, she was a Sunday school teacher and superintendent at St. Paul AME Church in Montgomery, and she was responsible for preparing communion.
"I remember finding such comfort and peace while reading the Bible," she said. "Its teaching became a way of life and helped me in dealing with my day-to-day problems."
She also said her upbringing and Scripture taught her that people should stand up for what is right—"just as the children of Israel stood up to the Pharaoh."
She married a barber, Russell Parks, in 1932, and earned her high-school diploma the following year. She worked as a seamstress for a department store and as a housekeeper in Montgomery, kept up her church duties, and on the side did volunteer secretarial work for the local branch of the NAACP.
In the aftermath of her arrest and the bus boycott, threats and financial pressures mounted, and the couple decided in 1957 to move to Detroit. Despite her popularity and name recognition, Parks remained her modest, soft-spoken self, and joined a small congregation in the city, St. Matthew AME Church. She could have joined a large, prestigious church with a who's who membership list where "she'd be a reigning celebrity," former St. Matthew pastor Eddie Robinson told the Detroit News. She instead served unpretentiously at the small church as a home missionary and deaconess.
In 1965, Parks became a staff assistant to U.S. Rep. John Conyers (D-Mich.), where she remained until retirement in 1988. Her husband died in 1977.
Parks died at her home on Oct. 24, 2005, at age 92. President Bush described her as "one of the most inspiring women of the 20th century."
The night she died, officials at the Henry Ford museum in Detroit, a monument to motorized history, went into action. They moved the restored green, white, and yellow 1948 General Motors bus, the very one in which Rosa Parks stood up for what was right, to the center of the hall. They draped its sides with purple-and-black crepe the next day, and children flocked to visit.
Sitting where Rosa Parks had sat, high-school sophomore Megan McLean observed: "What she did changed everything."
(Used by permission. 2005 WORLD Magazine, all rights reserved. Subscriptions: 800-951-NEWS or www.worldmag.com)