Ken Taylor Goes Home
(Ken was the author of The Living Bible and founder of Tyndale Publishers)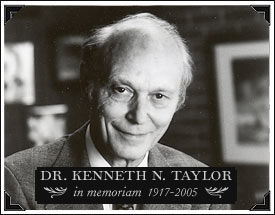 I had the joy of having a number of conversations with Ken Taylor, in particular sitting next to him at a Gold Medallion banquet, and also a Tyndale authors' dinner. About twelve years ago, I was amazed to find in my mailbox an encouraging letter from Ken Taylor in which he said that he considered my book Money, Possessions and Eternity to be one of the best "poor selling" books Tyndale had ever published! He said the book had made a real impact on him, and expressed regret that the sales hadn't lived up to what he considered the value of the book. (It has now sold many more copies than when he wrote his letter.) Of course, he had nothing to apologize for, but it seemed to truly bother him. The sweetness and humility of his letter touched my heart, and made me realize I was truly part of a publishing family, of which he was the father. The fact that he had taken time to write this personal heartfelt letter was a real encouragement, and a great example.
I look forward to seeing Ken Taylor again, and sitting next to him at another dinner on God's New Earth. Likely I'll hear others at the table, of many tribes and nations and languages, saying "Thank you" to this faithful man of God. I will sit quietly and listen, then I will gladly add my thanks to theirs.
Thank you, Jesus, for Ken Taylor, and thank you for helping him raise the bar for the rest of us. "Well done, my good and faithful servant; enter into the joy of your Master."
Randy Alcorn
---
The following is note from Mark Taylor, son of Ken Taylor, and President of Tyndale Publishers
Dear Tyndale friends,
Dr. Kenneth Taylor died just before noon today (Friday, June 10). He was at home and surrounded by members of his family when he slipped away from his tired body and stepped into the presence of the Lord.
Can you imagine the welcome he has received in heaven? We'll never know how many millions of people were introduced to the Bible as a result of Dr. Taylor's work in paraphrasing The Living Bible. Over the years, many, many people have told him, "I became a Christian when I read The Living Bible," or "My first Bible was the green padded Living Bible." Many of those people have preceded him to heaven, and I like to think they were part of the welcoming party.
Many of you have seen the picture of Dr. Taylor at his desk, with Martin Luther, William Tyndale, and John Wycliffe looking over his shoulder as he translated The Living Bible. Perhaps those translators—as well as scores of lesser known Bible translators—were in the front rows of those who welcomed him to heaven.
The ultimate treat, of course, will be for him to hear the Lord say, "Well done, good and faithful servant."
We've established a website at www.KennethNTaylor.com where you can get further information and post your memories of Dr. Taylor.
Thank you for your prayers for Dr. Taylor and for our family. Please continue to pray for Mrs. Taylor during these days of adjustment.
Mark D. Taylor