Ruthanna Metzgar's Letter and Triad Conference Picture
You can't imagine the reaction of people as I read certain passages from Heaven during our Sunday morning meeting at the Triad Handicapped Conference. There were gurgles and squeals and hand clapping and arms flailing. The idea that someday they will have new bodies and be with the Lord almost caused some to wiggle out of their wheel chairs. And then to announce after the message that Randy Alcorn was actually giving each of them a copy of the book was frosting on the cake.
It was such a blessed weekend. What a thrill and privilege to share from God's Word with these dear people. One message was from Ephesians 6 concerning the whole armor of God. For each piece of protection mentioned in the scripture I put on a piece of my mountain climbing gear (helmet, seat harness, boots, pack, rope, ice ax, etc.) and then talked about the concepts in the scriptures and how God had reinforced those concepts for me as I was mountaineering. I also showed slides from some of our mountain climbs to illustrate various points. They were so excited and kept telling me "When we get our new bodies and are on the New Earth we are going to go mountain climbing with you. Won't that be great?" I was in tears so many times. What amazing spirits these people have. So thank you so much for the books and for the prayers.
Sincerely in Christ, 
Ruthanna Metzgar 
(The wedding singer whose story is mentioned in Heaven)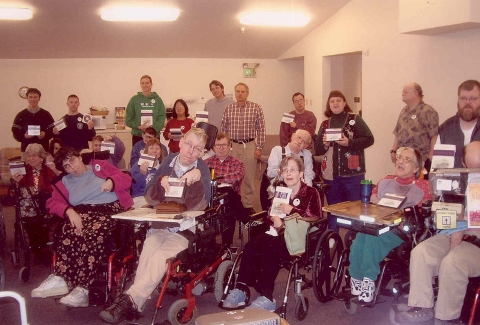 Ruthanna Metzgar (the wedding singer whose story is mentioned in Heaven) spoke at a Triad Handicapped Conference at Cannon Beach, OR in December 2006.