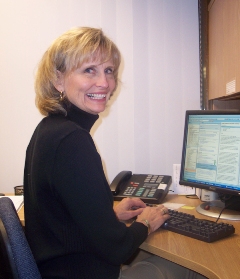 (Wonder about the title? This was put in temporarily, but we got used to it, and decided to keep it!)
How long have you known and worked for Randy?
I've known Randy since he was a freshman in high school. He attended a high school church retreat with a girl he was interested in. My husband and I were college chaperones and I pulled this girl aside and told her she shouldn't even consider dating a guy who wasn't a Christian. Well, it wasn't long before Randy committed his life to Christ, dated this girl named Nanci, and they've been happily married for over 35 years!
I've worked at EPM since 1997, and for several years previously was one of Randy's part-time secretaries when he was a pastor.
What do you like most about working for Randy and Eternal Perspective Ministries?
I am constantly faced with the biblical message of living life in light of eternity.
I am introduced to many wonderful people and ministries through Randy and his contacts throughout the world.
I work with a great supportive staff, and though we are few in number, the ministry is far-reaching because of Randy's writing and teaching.
I especially love it when I'm able to help people as Randy's representative, freeing him to do other things that only he can do. I really enjoy being able to network people together who have a shared vision and encourage them in ministry.
My family and I have been greatly impacted personally by being connected with Randy and the ministry of EPM. I often tell people "Randy lives what he writes." I believe my husband's and my desire to be more generous in our giving is directly related to observing Randy and Nanci and how they live and give.
What are the most difficult parts of your job?
Saying "no" to people who want to talk to Randy or meet with him. It's a delicate balance of helping him free up time to write without giving the message to others that he's too important or too busy for them. There are many people who are part of his life and church and work who he meets with. But there are enough already that, as much as he'd like to, he can't develop many new relationships. If he did, he wouldn't be able to maintain his core God-given relationships, and wouldn't have time to write books—which benefits us all!
Trying to adequately communicate a response to someone on Randy's behalf. I never want to misrepresent him, so it takes some concentrated thought on my part to translate the heart of his message to others.
What are some things about Randy most people wouldn't know?
He wears his slippers in the office.
He lives a half mile from the house he grew up in and hasn't moved in over 30 years.
He has a great sense of humor and likes to tease the staff from time to time. Once he brought a Great Dane into the EPM office and filmed me as I turned from my desk and encountered this human-sized animal right beside me. I'm known for my reactions, so no one was disappointed.
So what exactly do you do at EPM?
Much of my time is taken up in communication either by email or phone. "Can Randy come speak at…? What does Randy think about…? Has Randy read the book…? Could I meet Randy for lunch to talk about…? Could he call me about…? Would he read my manuscript about…?"
One of the best parts of my job is getting to speak with so many wonderful and interesting people whose lives have been touched by Randy's writings.
I received a phone call from a mother of eight children, ages eight and under, who was diagnosed with a brain tumor and given 3-5 years to live. Her husband had read Heaven and was sharing it with her. She commented on how helpful it was and how she was writing journals to each of her children and husband. Her biggest fear is that her children will suffer emotionally and have anger and resentment toward God because of her death. She's talking to them now about what strong adults they are going to be and how God is going to use them.
I spoke to the owner of an oil company, a former professional football player who is now involved in NASCAR racing. As the owner of a million dollar company and wanting to give the money away, he had been introduced to The Treasure Principle and wanted help on taking the next step. We were able to connect him with a good friend of EPM's, a financial planner and generous giver, who gave him some direction with his giving.
I make calls to donors of our ministry, assuring them I'm not calling to solicit for more funds, but to find out how they were first introduced to EPM and to connect with them on a more personal level. It's so encouraging to hear how Randy's life and books have influenced their lives. It's also fun to give them more of the "inside scoop" about what's happening with Randy and EPM and get to know them better.
What would you like others to know about yourself?
I have a full and meaningful life and am blessed far more than I deserve with a great husband, three children, and nine precious grandchildren. God has proven himself faithful through various trials in my life and that is the message I want to leave with others: He is faithful and He is trustworthy, no matter how dark the storm. He never wastes an experience on us but will always use it for good in our lives to grow us up in Him. So I can "count it pure joy when I encounter various trials…" (James 1:2).
And I love to laugh.
Kathy Norquist was Randy Alcorn's Executive Assistant from 1997-2015, then worked in Ministry Development up until September 2018 when she retired. Kathy remains on the EPM Board of Directors.