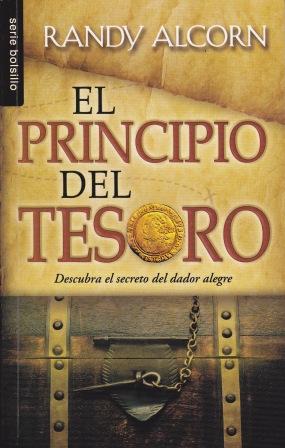 A Randy Alcorn le encanta dar y él quiere que a usted le guste también. Solamente escúchelo hablar sobre la alegría de diezmar y la generosidad radical. Pero no tenga miedo: Alcorn no le va a hacer sentir culpable para forzarlo a dar. Tampoco le va a decir que venda sus pertenencias, ni que abandone toda forma de entretenimiento o que se olvide de vacaciones futuras.
Randy Alcorn loves giving, and he wants you to love giving. Just listen to him talk about giving, about joyful tithing and radical generosity. But fear not—Alcorn won't guilt you into giving. Nor will he instruct you to sell your possessions, abandon all forms of entertainment or forego future vacations.
Lo que Alcorn le va a decir es esto: Una vez que usted descubra el secreto placer de dar, su vida nunca será la misma. Alcorn considera que los Los preceptos del tesoro producen un cambio de perspectiva de la vida y él quiere que el resto de nosotros conozca el secreto.
What he will say is this: Once you've discovered the secret joy in giving, your life will never be the same. Alcorn calls this life-changing perspective The Treasure Principle, and he wants to let the rest of us in on the secret.
Aunque muchos de nosotros reconocemos que diezmar es parte de las obligaciones de la vida cristiana, ¿Cuántos de nosotros lo hace a regañadientes, o ni siquiera lo hace? En Los preceptos del tesoro: Descubriendo el secreto del placer de dar, Alcorn, experto en finanzas, declara que el promedio de los cristianos, en los Estados Unidos, da del dos al tres por ciento de sus ingresos a las Iglesias y ministerios cristianos, pero la mayoría no da nada.
While plenty of us acknowledge that tithing is part of our Christian duty, how many of us do so begrudgingly, or not at all? In The Treasure Principle: Discovering the Secret of Joyful Giving, financial expert Alcorn reports that, American Christians on average give two to three percent of their income to churches and Christian ministries, while many don't give anything at all.
También es verdad que cambiar los hábitos de dar no es siempre fácil, por eso, ni lo intentamos, pero luego terminamos sintiéndonos culpables. Tampoco escasean las razones para no dar.
It's also true that changing established giving habits isn't always easy—so we don't, and we end up feeling guilty. And there's no shortage of reasons people come up with for not giving.
Posiblemente usted vive escasamente al día de su salario, o está sepultado bajo una montaña de deudas producto de los préstamos de su educación, las cuotas de pago del auto o las tarjetas de crédito. Quizás usted había prometido comenzar a diezmar, cuando tuviera un trabajo con mejor salario, recibiera ese tan anhelado aumento. Pero con el costo de los cuidados médicos y los pagos de la casa, el diario vivir se ha hecho oneroso y es difícil dejar ir el dinero, especialmente, si es necesario sacrificar la gratificación personal.
Maybe you're living from paycheck to paycheck, or mired in mountains of school loans, car payments or credit card debt. Perhaps you've vowed to start tithing the moment you get a higher-paying job or that long hoped-for raise. From health care costs to house payments, daily life is expensive and money hard to part with—especially at the expense of personal gratification.
Sure, es fácil conseguir desalentado sobre el estado de nuestras finanzas. Y ése, Alcorn dijo, es donde confunden a mucha gente
Sure, it's easy to get discouraged over the state of our finances. And that, Alcorn said, is where many people are mistaken.
Claro que es fácil desanimarse pensando en el estado de nuestras finanzas. Pero, Alcorn dice: Allí es donde mucha gente se equivoca. "Quiero hacer hincapié en el gozo y el placer de dar," declaró Alcorn. "En Hechos 20:35, Jesús dice: 'Hay más dicha en dar que en recibir.' Si realmente creemos esto, entonces nos estamos perdiendo una bendición cuando dejamos de dar; pero si damos recibimos una bendición."
"I want to emphasize the joy and the pleasure of giving," Alcorn told family.org. "In Acts 20:35, Jesus says, 'It is more blessed to give than receive.' If we really believe that, then we're missing a blessing when we don't give—and getting in on a blessing when we do."
La alegría de dar
Joy Through Giving
Desde que él comenzó a comunicarle a otros la satisfacción que acompaña el dar, Alcorn dice que ha visto muchas vidas cambiadas para bien. El libro sobre Los preceptos del tesoro es el vehículo de Alcorn para llevar este mensaje a las masas. Él basa este libro conciso, condensado y lleno de poder en Mateo 6: "No acumulen para sí tesoros en la tierra ... Más bien, acumulen para sí tesoros en el cielo."
Since he began telling others about the delight that accompanies giving, Alcorn said he has seen many lives changed for the better. The Treasure Principle is Alcorn's vehicle for taking his message to the masses. He based the concise, power-packed book on Matthew 6: "Don't store up for yourselves treasures on earth … Instead store up your treasures in heaven."
Alcorn define los principios del tesoro así: No puedes llevarlo contigo, pero lo puedes mandar adelante. Mientras que los tesoros de la tierra van a ser destruidos, los tesoros en el cielo son eternos. Alcorn cita al legendario pastor A. Z. Tozer, quien dijo: "Todo lo que sea dado a Dios tiene un toque de inmortalidad."
Alcorn defines the treasure principle as this: You can't take it with you, but you can send it on ahead. While earthly treasures will be destroyed, treasures in heaven are eternal. Alcorn quotes legendary author and pastor A.W. Tozer, who said, "Whatever is given to God is touched with immortality."
En verdad, el placer de dar suena muy bonito, pero cuando llega el momento de sacar una buena cantidad de la cuenta chequera de forma constante, muy difícilmente lo podemos considerar un placer. Esta es otra concepción errada, dijo Alcorn.
Indeed, joyful giving certainly sounds nice, but when it comes down to it, consistently forsaking a chunk from your checking account hardly seems pleasurable. Another misconception, Alcorn said.
"Dar es completamente opuesto al pensamiento de que la felicidad se encuentra acumulando dinero y posesiones," sostiene Alcorn. Más bien, el placer se adquiere cuando se entrega lo material y se abraza lo eterno. Alcorn continuó: "Si usted cree literalmente que hay más dicha en dar que en recibir, entonces, usted se va a convertir en una persona que da. Si usted no lo cree, usted está diciendo que no se puede confiar en la Biblia y que Jesucristo no dijo eso realmente, o que Jesucristo estaba equivocado."
"Giving is completely contrary to the thought that happiness can be found in accumulating money and possessions," he said. Rather, joy is acquired by surrendering the material, and embracing the eternal. Alcorn continued, "If you literally believe it is more blessed to give than to receive, then you will become a giver. If you don't believe it, you're either saying the Bible isn't reliable and Jesus didn't really say that, or that Jesus was wrong."
¿Entonces cómo podemos convertirnos en personas que disfrutan de dar?
So, how can we become joyful givers?
"Dando", dijo Alcorn. "No se siente a esperar. Salga adelante y dé, y así despertará el ánimo de dar y a Dios le complace esto."
"By giving," Alcorn said. "Don't sit around and wait. Go ahead and give, then you'll develop a cheerfulness about it, and God loves that."
"No posponga lo que Dios le ha pedido que haga," añadió. "Cuando usted aplaza la orden de dar, está demorando su obediencia. Santiago 4 nos dice que no sabemos lo que mañana traerá. Así que cuando decimos que vamos a hacer algo en el futuro, eso puede ser muy presuntuoso."
"Don't postpone what God has called you to do," he added. "When you procrastinate giving, it often is procrastinating obedience. James 4 tells us we don't know what tomorrow will bring. So whenever we say we're going to do something in the future, it can be pretty presumptuous."
Ahorre más y de más, ¿Pero, cómo?
Save More and Give More, But How?
Alcorn ofrece varias sugerencias prácticas para ayudar a las familias a manejar el dinero de una forma balanceada y responsable, al mismo tiempo que dan como Dios manda. El primer paso es sentarse y analizar dónde se está gastando el dinero, esto permite ver dónde se puede dar. "Muchos de nosotros piensa que no puede darse ese lujo", afirmó Alcorn, "¿Pero, cuánto estamos gastando al mes en la compra de DVDs, o en la renta de videos? No quiero decir que estas cosas son malas, pero Dios nos ordena claramente dar ... y si no lo hacemos, algo está mal."
Alcorn offered several practical suggestions to help families balance responsible money management with giving as God commands. The first step is to sit down and examine where money is being spent that could translate into giving. "Many of us think we can't afford to give," Alcorn said, "but how much are we spending per month at Starbucks and on video rentals? I don't mean these things are wrong, but God clearly commands us to give…and if we're not, something is terribly wrong."
El segundo paso es llevar un récord de los gastos por un periodo de 60 días. Anote todas las transacciones, ya sea que el dinero es para pagar la cuota mensual del auto o para un chocolate. "No podemos reducir eficazmente nuestros gastos habituales y crear más dinero para dar más, si no sabemos en qué estamos gastando el dinero. He notado que el promedio de la población, generalmente no sabe dónde gasta el dinero. Todo lo que ellos saben es que se desaparece."
The second step is to record every expenditure during a 60-day period. Write down every transaction, whether the money's going toward a car payment or a candy bar. "We can't effectively trim our spending habits to create more money to give unless we understand where our money is going. I've found that the average person really doesn't know where their money goes. All they know is that it disappears."
Alcorn continuó: "Cuando la gente anota lo que gastan todos los días y ellos saben que ellos van a tener que sumar todas estas cifras y posiblemente, decírselo a sus cónyuges, entonces, los gastos pueden reducirse significativamente."
Alcorn continued, "When people are recording what they spend every day and they know they'll have to add up these figures and possibly divulge it to their spouse, spending can go way down."
Sin embargo, la idea de este ejercicio no es justificar los gastos, dijo Alcorn, porque en última instancia las cuentas se le dan a Dios. "Él es quien va a hacer la evaluación sobre cómo estamos manejando el dinero. Así que, si yo no siento que puedo justificar una compra ante mi cónyuge, estoy seguro de que no puedo justificarme delante Dios."
Yet the point of this exercise isn't to justify expenditures, Alcorn said, because the only account we ultimately give is to God. "He's the one who will do the performance evaluation on what kind of a job we're doing. So, if I don't feel like I can justify a purchase to my spouse, I'll bet I don't feel like I can justify it to God."
Un tercer paso para mantener un control en las finanzas, y además hacer que toda la familia participe, es establecer un presupuesto. Comience por separar la parte dedicada para donaciones y ahorro, lo demás divídalo entre los gastos que tiene normalmente. Alcorn sugiere utilizar billetes de imitación para jugar con los niños y demostrarles las áreas dónde el dinero se gasta, tales como la electricidad, el agua y las tarjetas de crédito. Los padres pueden convertir una salida de compras en una actividad educativa, haciendo que los niños decidan qué artículos en rebaja, son cosas que realmente se necesitan versus las cosas que ellos simplemente desean.
A third step in helping keep tabs on finances—and one that involves the whole family—is to create a budget. Begin by setting aside portions devoted to giving and saving, then dividing the rest among your regular expenses. Alcorn suggested using play money to show kids the areas where funds are spent, such as utilities and credit card bills. Parents can even turn a shopping trip into a teachable moment by having children decide which items for sale are things people need versus things they merely want.
Aunque el concepto de dar con alegría es un chiste en el contexto de nuestra cultura saturada por la avaricia, Alcorn cita Eclesiastés 5:12 "El trabajador duerme tranquilo, coma mucho o coma poco. Al rico sus muchas riquezas no lo dejan dormer." En resumen, mientras más se tiene, más hay de que preocuparse.
And to the notion that joyful giving flies in the face of our greed-saturated culture, Alcorn cites Ecclesiastes 5:12: "The sleep of the laborer is sweet, but the abundance of the rich man permits him no sleep." In short, the more you have, the more there is to worry about.
Los preceptos del tesoro nos inculcan humildad, a la vez que son un útil recordatorio de que el evangelio consiste en dar. "La Gracia es un regalo," nos dice Alcorn. Participamos de la Gracia de Dios cuando damos ya que fuimos hechos para dar. Y nuestros corazones se regocijan en ello."
The Treasure Principle is a helpful—and humbling—reminder that the gospel is about giving. "Grace means giving," Alcorn said. "We participate in God's grace whenever we give as we're made to do. And our hearts rejoice in it."
El Principio Del Tesoro por Randy Alcorn.
Randy Alcorn es un autor de renombre y es el fundador Eternal Perspective Ministries. Él es un conferencista y profesor popular y se ha presentado en más de 350 programas de radio y televisión.
Randy Alcorn is an author and founder of Eternal Perspective Ministries. He is a lecturer and popular professor and has appeared in more than 350 programs on the radio and television.
Carol Steffes es un editor en línea para Focus on the Family.
Carol Steffes is a publisher for Focus on the Family.