Faith and Football
One of the reasons we enjoy fall and winter is football. Nanci is more football-crazy than I am, but we both really enjoy the game.
Last January the Florida Gators won the national college championship. Quarterback Tim Tebow was named Most Valuable Player.
If you would have told us four years ago that Nanci and I would become Gators fans, we'd have said "no way." Nothing against the Gators, but Florida and Oregon, land of Beavers and Ducks, are geographical opposites, and in the past we haven't followed closely what happens in Florida at the college level.
But last year Tim Tebow and his family changed all that. Tim's parents, Bob and Pam Tebow, invited us to spend a weekend with them and attend a Gator game last November. They lived in Oregon 36 years ago while Bob attended Western Seminary, where I went after Multnomah Bible College (now Multnomah University).
Bob graduated from Western with our old friend and pastor Stu Weber, who I served with in the first thirteen years of Good Shepherd Community Church, which Nanci and I are still part of. We went to the Tebow home for a fun weekend, with much talk of the past, the present, and God's faithfulness. The Tebows have a great family, and a great ministry in the Philippines.
Tim Tebow, in his first three years of college, has won the national championship twice, as well as the 2007 Heisman trophy for the best football player in the country, and was one of the three Heisman finalists in 2008. For this year, he's in the top five in the preliminary votes. But what's really remarkable is his outspoken devotion to the Lord, who he always publicly thanks as "my Lord and Savior Jesus Christ" (which is much more specific and controversial than thanking "God"). You may have seen Phil. 4:13 and John 3:16 repeatedly on camera, under his eyes.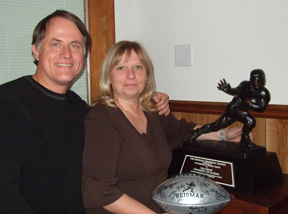 Timmy, as his family calls him and as he signs his autographs (including on several jerseys for our grandsons), is utterly serious in his commitment to Christ. I have only been around one public figure who receives the amount of attention Timmy does, which is way more than most of us are built for. We were sitting with Timmy for an hour in a private post-game tailgate event, where we were able to talk and pray with him and watch him interact with others. Then he jumped in his parents' car with us to go hang out at his apartment with some of his friends. (Nanci and I posed with Timmy's Heisman trophy and a Heisman ball signed by winners of the trophy at the Tebow home; to clarify, I did not actually win a Heisman myself.)
Because Timmy has been so explicit in his faith in Christ and commitment to purity, he has a target on his chest. (If I were Satan, I'd sure go after him.) Pray for this young man. Fortunately he has a truly wonderful Christ-centered, kingdom-minded family. His parents, brothers and sisters are the real deal. So is Tim Tebow.
Tim Tebow isn't the only great football player with faith in God. Speaking in NFL chapels over the years, we've had the opportunity to get to know a number of them. One of our friends, Jason Hanson, ranks number seven in total points scored in NFL history. He is still going strong. Jason kicked for Washington State, setting NCAA records that stand to this day. He was a teammate with retired quarterback Drew Bledsoe. He holds the all-time college record for most field goals from 50 yards and more (20), and 40 yards and more (39).
Jason also holds the all-time NFL record for field goals 50 yards and greater—42 of them—and we got to see record-setting number 42 on November 8, when he gave us four tickets (Rod and Diane Meyer came with us) to watch Seattle play the Lions. It was fun talking with Jason after the game, along with Lion punter Nick Harris, another committed Christ-follower; congratulations to Nick and Heather on the newborn twins!)
Last year was a rough one for the Detroit Lions, but an incredible year for Jason, who missed only one field goal from any distance (it was blocked). Jason kicked eight field goals over fifty yards last year, tying the NFL single season record He was a pro-bowl alternate. And at age 39, having played with the Lions seventeen years, he's been with the same team longer than any other active NFL player.
Most importantly, Jason is not only a great competitor, but a humble follower of Christ, who uses his gifts for God's glory. He loves his wonderful wife and children and is a real role model.
The way he's kicking, Jason may keep playing for years. When he finally retires, in my opinion Jason will have had a hall of fame career. Speaking of the Hall of Fame, Jason is already there, because the uniform he wore and the football he kicked to break that NFL career record for 50-yard-plus field goals were officially handed over to the Pro Football Hall of Fame in Canton, Ohio.
Isn't it fun to know that God has his people everywhere, in grocery stores and tire shops, in offices, at colleges, and in professional sports?
And what about Kurt Warner? Nine years after he won the Super Bowl with the Rams, and about five years after everyone thought his career was over, last year he led the underdog Arizona Cardinals through the playoffs, all the way to the Super Bowl. For Warner, it's all about Christ.
Whether we eat or drink or whatever we do—including playing sports and watching them—may we do it all to the glory of God (1 Corinthians 10:31).
Interesting note: Tim Tebow's missionary mother was told by her doctor to abort Timmy because he would have birth defects. Read more.
The original of this updated article first appeared on Randy Alcorn's personal blog, January 15, 2009. Visit the blog at www.epm.org/blog to read Randy's latest thoughts on the Christian life, discipleship, books, family, and more.
Other Christian sports-related resources:
Books:
Game Day for the Glory of God: A Guide for Athletes, Fans & Wannabes by Stephen Altrogge
Game Plan for Life: A Champion's Guide to a Successful Life by Joe Gibbs (and a team of authors, including Randy)
Organizations for young Christian athletes:
Athletes in Action (www.athletesinaction.org)
Fellowship of Christian Athletes (www.fca.org)