A Real Hope of Heaven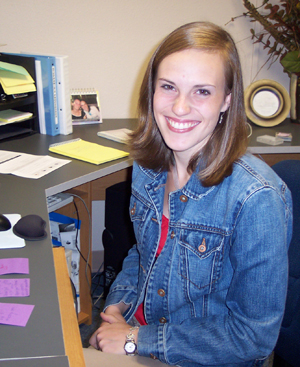 The first time I picked up a book by Randy Alcorn was when I was a sophomore in a theology class at Corban College and we were reading Heaven. As we studied through the book, my view of eternity was radically challenged and altered—for the better. Little did I know that a year and half later I would be working for Randy's ministry. Nor did I know at that time just how precious those truths about Heaven would turn out to be.
For the past two years, I've been the promotions director for Eternal Perspective Ministries. I update the website, oversee book promotions, help with Randy's blog, create the monthly e-news update, and edit audio and video clips. I've been amazed as I see how God works in the hearts of those who come in contact with EPM. It's a privilege to hear that a book, website article, or blog has impacted someone's life and to know that God, by His grace, truly is using this ministry to encourage people to live in light of eternity.
The hope of Heaven and what I've learned through working for EPM became so much more real to me when my only sibling, my sister Tricia, passed away last year. I discovered that when someone you love is severely disabled, your own longing for Heaven is intensified. The promise of resurrection becomes so much more astounding. The ache for what cannot be here on earth is tempered by the joy of what will be reality in God's presence.
For my sister's memorial service, the pastor asked our family to express our thoughts in letters to Tricia. I hope what I wrote will encourage others who have a loved one with disabilities, or who have lost a loved one, to hold fast to the hope of Heaven.
Dear Tricia,
It seems so strange to write you a letter when we never had a conversation. It's hard to know what to write to the sister you never talked with, never played with, never laughed with.
A part of me aches for the kind of sister relationship we couldn't have. I could have been jealous of you when you got to do things I wasn't allowed to because you were older; I could have borrowed your trendy shirts and pretty earrings; I could have giggled with you about your crushes. You could have been one of my bridesmaids on the day I said "I do." Maybe all along I've missed the big-sister advice you could have given me and the secrets we could have shared. There is a strange kind of hurt for the things that never were.
When Mom and Dad and I were deciding what to put on your gravestone, I helped them choose "Christ is our hope." Just four words, but they summed up what I felt so strongly throughout the weekend of your departure (or rather, from His perspective, your homecoming). Your life here wasn't meaningless, though some might consider it that. God had a reason for you being here just as you were. I have to remind myself of that. Maybe you're walking with Jesus right now, and He's helping you see so clearly what those of us here on earth still can't fully understand.
I do know this—I will be so amazed on the day I see you again. I imagine you, my beautiful sister—dancing, smiling, running, singing the songs you loved—doing all the things you couldn't do here on earth. I will wrap my arms around you, and together we will rejoice in our God, the God who has traded our sorrows for laughter.
I love you,
Stephanie
Stephanie is married to her college sweetheart and best friend Dan. They have two daughters.
Stephanie Anderson is the communications and graphics specialist at Eternal Perspective Ministries.