Ordinary People in Extraordinary Times
Thank you for the opportunity to share with you a very unique and special time in the life of our family. I am so glad to have a chance to talk to you about how the Lord helped and sustained us through a very difficult time. I am planning to leave a few minutes available before you have your table time for you to ask questions if you would like to do that.
Let's pray. Father I pray that your Holy Spirit would soften our hearts toward You and that we would hear what You have to say to us. I ask that You help me speak simply and clearly and that You would be honored and lifted up. Thank You for Your great goodness and mercy to us all. In Jesus' Name, Amen.
Before we get started, I want to take a couple of minutes to talk about a couple of words that are important to our story. One is goodness and you probably have that one figured out. Let's think of it in terms of kindness of heart or act, pure in motive. Another is mercy. Mercy is the outward manifestation of pity; it assumes need on the part of the person who receives it and resources adequate to meet the need on the part of the person who shows it. The last one is grace. The person who bestows grace has a friendly disposition toward the object of grace. We would experience grace as loving-kindness or goodwill or special favor towards us from another person.
Sunday, June 14, 1987, had been an ordinary, but enjoyable day for us. It was a beautiful day. We attended church together in the morning and then John, Ami who was nearly 11, Dan (almost 9) and Chris, who had just turned 6, and I headed off to a farewell picnic for some friends. After we got home, we drove to Borchard Park for a coed softball game. John wasn't feeling that great. He'd had a couple of weeks of neck pain, like maybe he had slept wrong and tweaked something and he had been having headaches. But we went anyway. Toward the end of the game, John took himself out of the game and stayed in the dugout. By the end of the game, he was having trouble walking. Two of the other men, one under each arm, helped support him as we walked up the hill. By now, it was dawning on us that something was wrong and we needed to get John to the emergency room. A family took our children and one of the men rode in the car with me to Los Robles. When we arrived at the hospital, they were ready for us because someone had called ahead. It was early evening by now and a number of people had come to stay with me in the emergency room while we waited to find out what was wrong. By about midnight, John was completely paralyzed and was on a ventilator to help him breathe. A few hours later they had moved him to a bed in ICU and at about 3 a.m., from the ICU waiting room, I made the call to John's parents on the east coast to let them know what was happening. There were friends still there with me. One rode in the car with me and one followed behind in her car as I returned to our home with the bag of John's clothes.
The next morning I picked up our children from our friends and had to explain to them what little I knew. Their father was paralyzed, had a machine helping him to breathe, and was in intensive care. No one knew what was wrong and we didn't know how long he would be in the hospital. I had to call John's office to let them know that he would not be coming in. Chris was just finishing up Kindergarten, so I called the school to inform them because I wanted his teacher to be aware. We were home schooling Ami and Dan, so I just dropped school at that point. Our lives had completely changed. Now I was learning the hospital visiting hours in ICU and the procedures of washing up and wearing a gown over my clothing when I visited John. The doctors did not know why John was paralyzed, so they did the standard things to treat the symptoms while figuring out the cause. There was the ventilator to help him breathe, tubes for hydration and nutrition, IV's for the steroids to bring down the swelling in the spinal cord and medication to counteract some of the side effects of the steroids. After a few days, the doctors did a tracheotomy so that they could take the tube out of his mouth and put the tube to the ventilator though an incision in his throat so he would be more comfortable. A friend came up with a letter board to help John communicate because he could not speak. We used rows and columns of letters of the alphabet and John would blink once or twice to indicate no or yes.
Those first few days I just felt numb, like a robot, as I did what I needed to do each day for John and our children. We began to get into a routine of my taking the children to a friend's home to play while I went to the hospital to visit John. He could not speak, so mostly I talked to him about our children and what was going on with them. I told him about people we knew who sent their greetings along to him and just kept him company. Our children came to visit him once a week. We kept it short and they were able to tell him about their lives and what they were doing. I tried to encourage him. It was pretty awful for him. I found out later that he was in pain all of the time. He could hardly sleep at all. And, of course there was no way to take a shower or wash your hair. They ran all sorts of tests to try to find out what was wrong and could never get a specific answer telling us why he was paralyzed.
We had planned to go back east to visit our families the end of June, and John and I agreed that we should go ahead and send Ami and Dan for the three weeks, but I would keep Chris with us. It turned out to be a very strategic decision. Ami and Dan left and the routine of caring for Chris and spending time with John in the hospital continued. By now it was the beginning of July and I remember sitting with him and watching the Wimbledon tennis tournament. I was starting to learn a lot of different information and words and one thing I learned was about a kind of ulcer that can occur when the body is under severe stress—like in a prolonged medical crisis. They were giving him medication to try to prevent the ulcers from happening, but it did not do what they hoped. During those early days of July, it was evident that he was starting to have internal bleeding. They tried various things to stop the bleeding, but nothing was effective. On July 4 they decided that his situation was severe enough that they were going to have to operate. From the hospital, I called Steve Larson at home. He answered the phone and after I said "Steve", I couldn't even talk. I am always grateful that he didn't think it was a crank call and hang up on me! He recognized my voice and I was able to pull myself together enough to tell him what was going on. He met me at Los Robles and waited with me while John was in surgery. He came through fine and the doctors told us afterward that an ulcer had eroded the wall of the duodenum right into an artery. The incision they made "happened" to be in just the place that needed to be repaired.
John seemed to be doing better then had another setback and had to have another minor surgical procedure. He was recovering from that when the bleeding started again in earnest. They tried all these different things to minimize the bleeding—ice water washes of the digestive system to shrink the blood vessels and slow the bleeding, extra platelets to help his blood clot better and other things. They did a procedure to try to see what was going on (endoscopy) and found that he was bleeding in multiple places in his stomach. The surgeon talked to me about his recommendation and we explained everything to John. I signed the consent forms. We didn't discuss the risks of the surgery or what his chances were. The success of this surgery would be his only chance to make it. Again, Steve Larson came to the hospital and stayed. The surgery was pretty radical and lasted about 7 hours. I did not really think he would survive, but survive he did! I couldn't believe that he could have so much good color.
The crises were over and John started to make a steady recovery. He was still paralyzed, but was gaining strength and some function. Before the end of July, he was off the ventilator. He could not speak, but he could whisper. He was thrilled to be able to eat. He started with Ensure and quickly progressed to steak! By the middle of August, he had been moved to a rehab center in Northridge. He remained there and was able to come home permanently the day before Thanksgiving. While we did have some setbacks, he continued to make good progress with occupational, physical and speech therapy. The process was long and difficult, but John started back to work part-time in January of 1989. By mid-fall of 1989, he was working full-time. By 1990, he had started traveling again—by himself. He traveled all over the U.S. (by himself) and continued in that position until he retired in 2002. He's currently the administrative pastor here at EV Free.
I've given you the framework or skeleton of what we experienced, but now I would like to go back and flesh that out for you a little. I would like to share you about what we learned about ourselves and what we learned about God. I am going to blend these two things because they go hand-in-hand.
Our family is made up of very ordinary, flawed, fallen people who sin and make mistakes and are weak. For this period, we ordinary people were living in an extraordinary time. We would get a front-row seat to see God at work. It was extraordinarily difficult and extraordinarily wonderful. It is very important that you understand that we were victorious in these circumstances NOT because we were so smart or were such good people or were so strong. However, John and I had put our trust in Jesus Christ to save us, forgive our sins and do His work to make us more like Jesus. We wanted to obey Him and follow Him. We wanted our family to reflect His love and goodness and His plan for marriages and families and tried to do our part to bring that about. We tried to listen to Him as we read His Word, the Bible, and obey Him. In that sense, we were attempting to put into practice what Jesus told His disciples in Matthew 7:24-28:


"Therefore everyone who hears these words of Mine,
and acts upon them may be compared to a wise man,
who built his house upon the rock. And the rain descended,
and the floods came, and the winds blew,
and burst against that house; and yet it did not fall,
for it had been founded upon the rock.
And everyone who hears these words of Mine, and
does not act upon them, will be like a foolish man,
who built his house upon the sand.
And the rain descended, and the floods came, and the winds blew,
and burst against that house; and it fell, and great was its fall."
Also, in Psalm 127:1, it says: Unless the Lord builds the house, they labor in vain who build it.
Our desire was to build our house upon the Rock—Jesus Christ—and by God's grace, our family stayed intact. We chose to pull together. We had to keep choosing to put aside our own selfish desires and do what was right for our entire family, not just ourselves. We also knew that all of our best efforts were not enough if God did not do His work in our lives. Now, this doesn't mean that we didn't lose a few shingles or have some broken windows, but our house stood. What we believed affected what we chose and how we lived.
I never once saw myself as strong, but weak and bewildered and afraid. But I remembered that God was strong and He was able, so I hung on to Him for dear life. Some of my prayers were along the line of "God, help me. Help John. Help our children." I would talk to Him as I drove back and forth to the hospital and at night and basically all the time.
He sent other followers of Christ to help us—to bring us meals, do our laundry, care for our children, visit John, pray with us, laugh with us, and cry with us. What a wonderful encouragement and source of strength these other believers were! They trusted and relied on God and encouraged us to do so too. In every sense, they carried this burden with us. They shared the load which meant it did not become too heavy for us. I was in a prayer group of four other women who supported me so much. They faithfully prayed for us and I could talk honestly with them about the things I was afraid of, our triumphs and our losses. They let me cry when I needed to do that but patiently encouraged me to trust in the Lord for His help.
Very early in the process, Steve Larson, our senior pastor at EV Free, shared a passage of Scripture that I held onto as we went through the darkest of the days. It was II Corinthians 4:6-11, 16-18:


For God, who said, "Light shall shine out of darkness,"
is the one who has shone in our hearts
to give the light of the knowledge of the glory of God in the face of Christ.
But we have this treasure in earthen vessels,
that the surpassing greatness of the power may be of God and not from ourselves;
we are afflicted in every way, but not crushed;
perplexed, but not despairing;
persecuted, but not forsaken;
struck down, but not destroyed;
always carrying about in the body the dying of Jesus,
that the life of Jesus also may be manifested in our body.
For we who live are constantly being delivered over to death for Jesus' sake,
that the life of Jesus also may be manifested in our mortal flesh…
Therefore we do not lose heart, but though our outer man is decaying, yet our inner man is being renewed day by day.
For momentary, light affliction is producing for us an
eternal weight of glory far beyond all comparison,
while we look not at the things which are seen; for the things which are seen are temporal,
but the things which are not seen are eternal.
This passage of Scripture was essential to me. It told me about God and who He is and it told me about us. John's body was an earthen vessel and as he was stripped of the ability to move or speak or act, all he could do was to be. Because of that, what was most visible and what shone the brightest, was who he was—a child of God. Someone who had the Holy Spirit living in him. And the weaker that John got, the more brightly that light of the Holy Spirit shone. Right after this happened, someone asked him if he was upset with God. John answered that he had been willing to accept good things from God, so he was also willing to accept this from God. In many respects, this was a terrible time for us. But, God was so present with us throughout this time and His promises so sure that I felt like we were walking on holy ground—just like Moses and the burning bush. Just as the Scripture said, we were afflicted, but not crushed; perplexed but not despairing; persecuted but not forsaken, struck down, but not destroyed. We do not lose heart and we know that even though our physical body is decaying, our inner (spiritual) man is being renewed. And we had the promise that at the end of all things this momentary light affliction is producing for us an eternal weight of glory far beyond all comparison. God was not belittling our suffering but giving us perspective. Just like during the labor and delivery of our children can be difficult and painful, we can endure it because the outcome is worth the hardship. And we were reminded to not look at just the physical things because they are temporary, but we need to look at the things which last forever.
This passage of Scripture was such a great comfort and challenge to me and I really did cling to that during the absolutely darkest times for us.
Now you have to know that God is the one who thought of humor. And I always remember some of the things that made us laugh. John turned 40 while in ICU and Christy Bailey visited him that day. The nurses had blown up examining gloves and hung them around John's bed like balloons. Christy came in, put her hands on her hips, looked around and at John and said, "So this is 40!" A week after John was hospitalized, our children came to visit. We worked with them ahead to try to prepare them. It went pretty well and as we left the room, Dan, almost 9, turned to me and said, "Gee, Dad didn't look as bad as I thought he would." I was wondering to myself what on earth he had imagined. Then Ami, who has always been a very take charge person, warned John that he better be off the ventilator by the time she got back from New Jersey. We always tried to keep humor in the picture to lighten the mood a little bit and keep things in perspective. When the kids would visit John, especially when he was in ICU, they would tell him jokes. Those jokes were pretty bad, but the kids had a captive audience! When John was in Northridge, the kids drew pictures and wrote poems that we could put on his bulletin board. As John was able to have movement in his hand, the kids would play checkers or Chinese checkers with him. Laughter was always a part of that. We are so grateful to God for humor and jokes and fun.
Another passage of Scripture that was right on target was Proverbs 14:1:
The wise woman builds her house,
But the foolish tears it down with her own hands.

I had to decide how I was going to respond to John now that he was paralyzed. I had made a vow before God to love him in sickness and in health. I had to choose to keep my promise. I had to choose to continue to honor him as the head of our family. Now, that choice had to be a little creative since I was healthier and stronger than him. I could talk and he couldn't (at least for a couple of months). I was paying the bills and making many of the decisions simply out of necessity. I wanted to build my house, not tear it down with my own hands. I thank God that He helped me figure out ways to help include John in decisions and encourage our children to consult him about various things and basically respect him and honor him as their father, just like they did before. I thank God that He worked in our children to help them respond respectfully to their father (certainly they did not always do this perfectly) and John really did continue to lead our home. I asked our children if they would like to say anything to you all. I'd like to read excerpts of their responses.
One of our sons: "I guess I would have to say I think it might be one of the most important events of my life, particularly in terms of how much it and everyone's reactions to it, has shaped my thinking about life….One thing that has impacted me most is how Dad, at least from how I have viewed him, responded to this whole thing. I was floored when he told me he was not all that interested in knowing what caused the paralysis. The point was he had it. The question was, how should I then live? I have never seen him blame and consider himself a pity case. In regards to my work ethic and tenacity to live a godly life in a hostile world, this is very encouraging to me. Not that I always succeed in this endeavor, but I do believe watching how Dad reacted shaped my thinking about how I should react when bad things happen to me."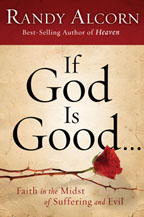 We still experience loss and difficulties because of John's paralysis. We live with the results of that reality every moment of every day. However, whenever I think of this period of our lives, my heart is always filled with gratitude toward God. He was a very present help in time of trouble. He carried us ordinary people through a difficult and extraordinary time. The worse things got for us, the more clearly we could see His beauty and goodness. The better we could see how worthy He was of our worship and how tenderly He cared for us and helped us. Please do not make the mistake of thinking that our victory is because of something great about any of us. Our choice to follow Christ does have implications, but even that was due to His grace in helping us obey. It's all about God and His goodness and mercy and grace to us. And it is just as available to you as you follow and trust Him. Let's choose to build our lives, our homes, on the Rock. Let's remember that it is God who builds a house that lasts and let's choose to build our houses and not tear them down with our own hands. Thank you so much for allowing me the opportunity to share with you God's great goodness in our lives. Let's pray.
Father, I thank you that you are worthy of our worship and honor and love. I thank you that you know we are frail and weak but that in our weakness you are shown strong. Help us come to you, rely on you and trust you. Help us to follow you and obey you. We love you. In Jesus' name.
Cited in Randy Alcorn's book If God Is Good... Faith in the Midst of Suffering and Evil.